Lochinvar® Names December Winner in VIP Contractor Showcase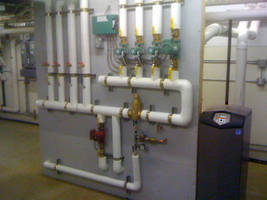 Michael Cummings of Pittsfield, MA Honored for Geothermal Installation with KNIGHT® XL

LEBANON, TN - Lochinvar, LLC announced that Michael Cummings of Climate Heating & Cooling in Pittsfield, Massachusetts, was selected as the latest monthly winner of the VIP Installation Showcase. As part of Lochinvar's annual VIP Contractor Program, the Installation Showcase offers approved contractors the opportunity to compete on a monthly basis by showcasing their installations at www.knightheatingboiler.com.

Among the December entries was a submission from Cummings, which outlined a job he recently completed at an area residence. He and his team converted the home's existing heating system to a 40-ton geothermal installation, which included the KNIGHT® XL as a back-up heat source, to improve energy efficiency. The system provides heat for more than 25,000 square feet of living space as well as a greenhouse on the property.

"We chose the KNIGHT XL for this job because of its 5:1 turndown ratio, and we were all really impressed with its easy installation and setup," said Cummings. "This was a really successful installation, and winning the VIP Showcase is the icing on the cake."

Founded in 2000, Climate Heating & Cooling is a full service design build mechanical contractor serving the Berkshires of Western Massachusetts and surrounding areas.

As his prize for being named a monthly winner, Cummings selected a $250 gift card to Home Depot. The contractor with the most impressive project of the heating season will be selected as the grand prize winner and will receive an all-expenses-paid, three-day trip for two to Nashville, Tennessee. The trip includes a stay at the legendary Opryland Resort, a dinner cruise on the General Jackson Showboat, a night of entertainment at the Grand Ole Opry, a tour of the Jack Daniels Distillery and a visit to Lochinvar headquarters for a roundtable discussion.

This monthly installation contest is just a part of the VIP Contractor Program, a program that promotes advanced training of Lochinvar products and provides approved contractors with a wealth of resources and rewards.

Lochinvar, LLC is a leading manufacturer of high-efficiency water heaters, boilers, pool heaters and storage tanks. Based in Lebanon, TN with facilities in Chicago, Detroit, Orlando, Tampa, Phoenix, Pompano Beach and Dallas, Lochinvar stocks all products in all locations. For more information about Lochinvar, contact: Lochinvar, LLC, 300 Maddox Simpson Parkway, Lebanon, TN 37090; Phone: (615) 889-8900; Fax: (615) 547-1000; www.Lochinvar.com.

More from Fasteners & Hardware