Lochinvar® Announces Major Product Innovations and Initiatives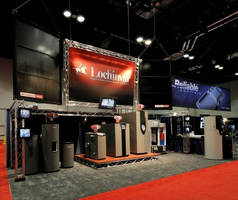 New Partnership and Product Introductions Revealed at 2010 AHR Expo

LEBANON, TN - February 2010 - At the 2010 AHR Expo in Orlando, Lochinvar generated buzz throughout the show with the announcement of three very significant new innovations and initiatives. Despite the recent and ongoing economic conditions, each of these announcements exemplified Lochinvar's continued investment in research and development.

New Squire® Stainless Steel Indirect Water Heaters

One of the key product innovations Lochinvar shared with show attendees was that the highly successful Squire® Indirect Water Heater line has been expanded upon and enhanced. A total of 12 stainless steel Squire models will soon be available with capacities between 30 and 119 gallons. Among the new models will be six solar Squire units, each of which will feature hybrid systems that incorporate solar thermal panels along with a secondary boiler heating coil or electric back-up. As a result of Lochinvar's investment in tooling, machinery, robotics and passivation equipment, all Squire units will be manufactured at company headquarters in Lebanon, TN beginning in February 2010. All Squire models will also carry a limited lifetime warranty.

Solar Thermal Heating Initiative

In addition, Lochinvar announced their Solar Thermal Heating initiative, which is the result of a new partnership with TiSUN® GmbH of Tyrol, Austria. The partnership between Lochinvar and TiSUN has resulted in a winning team with smart strategies that provide the exact product, training and support that mechanical and plumbing design engineers and contractors need to provide renewable energy solutions for their clients.

As a global leader and specialist in solar heating technology, TiSUN brings years of extensive experience, along with a complete line of innovative products, to the table. The Lochinvar/TiSUN product offering will include solar thermal panels specifically engineered and designed for commercial use, solar thermal storage tanks utilizing a unique design that allows the tank to enhance the efficiency of the system, and the associated pumping stations used to move the solar energy between these devices.

CREST(TM) Condensing Boiler

The final - and undoubtedly the most buzz-worthy - announcement Lochinvar made at the AHR Expo was that the company plans to unveil the latest addition to its commercial, stainless steel, condensing family of boilers in 2010. The result of more than four years of research and development, the CREST(TM) Heating Boiler will raise the bar once again. This innovative new line has been developed to offer engineers more system design flexibility, sizes and distinctive performance characteristics to meet today's building standards for new construction and energy retrofit applications. With several patents pending on the technology incorporated into this new product, it indisputably redefines its class.

Once available, the CREST Heating Boiler will be offered in five models with capacities of 1.5, 2.0, 2.5, 3.0 and 3.5 million Btu/hr inputs. Each of these models will feature an advanced burner and combustion system designed to provide exceptional turndown capabilities and improve overall seasonal efficiencies. In addition, CREST will include the ever-popular SMART TOUCH(TM) operating control platform enhanced with an eight-inch touchscreen display; this advanced control will offer ease of set-up and use by installing contractors and will include Modbus protocol for easy integration into Building Management Systems.

Featuring a sleek, smart design, CREST will be equipped with distinctive features and control parameters to provide facility managers with functionality, ease of operation and data retrieval. Venting flexibility will allow both vertical and horizontal venting options with increased vent lengths and configurations.

Regarding these three ground-breaking announcements, Stirling Boston, director of marketing for Lochinvar, stated, "This year's AHR Expo was an exciting show for us. Not only are we thrilled to expand upon the SQUIRE Indirect Water Heater line, but all of us take great pride in the fact that these units will be manufactured right here at our headquarters. In addition, the partnership with TiSUN has provided us with an opportunity to share our industry experience and expertise with another outstanding company, collaborating with them to ultimately offer our customers the smart solar solutions they need and deserve. Finally, the unveiling of the CREST Heating Boiler was a tremendous accomplishment for the Lochinvar team; today's engineering practices rely on the use of the best available technology to optimize new or existing hydronic heating systems, and we wholeheartedly believe that design engineers, mechanical contractors and building owners will find just that in the new CREST."

A video featuring the live announcements of these new innovations and initiatives by Lochinvar executives at the AHR Expo is available at www.lochinvar.com.

Lochinvar Corporation is a leading manufacturer of high-efficiency water heaters, boilers, pool heaters and storage tanks. Based in Lebanon, TN with facilities in Detroit, Orlando, Tampa, Pompano Beach and Dallas, Lochinvar stocks all products in all locations.

For more information about Lochinvar,

contact:

Lochinvar Corp.,

300 Maddox Simpson Parkway,

Lebanon, TN 37090;

Phone: (615) 889-8900;

Fax: (615) 547-1000;

www.Lochinvar.com.

More from Communication Systems & Equipment