Location-Based Scope Management System withstands HLD process.
Press Release Summary: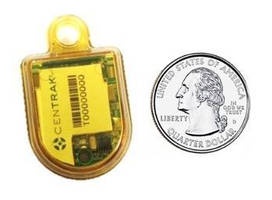 Medical Scope Management System helps address healthcare challenges regarding real-time and automated tracking of scopes, as well as medical equipment that requires High-Level Disinfection (HLD), throughout their usage, cleaning, and storage lifecycle. Operating in conjunction with CenTrak Clinical-Grade Real-Time Location System (RTLS)™ infrastructure, components provide certainty-based, workbench-level resolution even when reprocessing areas are inches apart.
---
Original Press Release:

CenTrak Launches Healthcare's First Location-Based Scope Management System, Offering Improved Patient Safety, Equipment Workflow and Security



Innovative Medical Scope Management System features miniature, durable tag capable of withstanding High-Level Disinfection (HLD) and is fully interoperable with CenTrak's Clinical-Grade Real-Time Location System (RTLS)(TM).



NEWTOWN, Pa. -- CenTrak today announced the availability of its Medical Scope Management System, designed to help address one of healthcare's most pressing challenges - the real-time and automated tracking of scopes through their usage, cleaning, and storage lifecycle.  Notable healthcare facilities have already adopted new scope-cleaning protocols, further supporting the case to monitor scope lifecycle events with RTLS. CenTrak's Medical Scope Management System represents healthcare's first practical tracking technology for medical equipment that requires High-Level Disinfection (HLD). The system includes a number of innovative components, which operate in conjunction with CenTrak's market-leading Clinical-Grade RTLS infrastructure. 



The new technology is designed to provide certainty-based workbench-level resolution, even when reprocessing areas are inches apart. Most noteworthy is CenTrak's introduction of the DuraTag, an active RTLS tag not much larger than a quarter, which can easily and safely attach to a scope, and is capable of withstanding the high-pressure washing and harsh disinfection chemicals commonly used during HLD. The DuraTag is also ideal for stretcher and wheelchair management, as those assets often require high-powered water jets for cleaning. The development of this rugged, high-performance tracking system was driven by demand from leading commercial and government hospitals, outpatient facilities, and CenTrak solution providers who are determined to improve the efficiency and safety of healthcare delivery. The Medical Scope Management System is compatible with battery-powered Gen2IR and Low Frequency technology installed in CenTrak's 600+ commercial and government accounts.



"CenTrak is proud to have developed this new technology.  We believe this system will help healthcare facilities attack one of the industry's most notorious sources of patient infections," says Dr. Ari Naim, President and CEO of CenTrak. "We are continuing to invest significant resources to engineer innovative solutions to address our partners' and customers' ever-changing set of healthcare delivery challenges."



CenTrak's Medical Scope Management System will be featured at HIMSS 15 in booth #4609.



About CenTrak

CenTrak® is the leading provider of precise, versatile, and cost-effective visibility solutions for healthcare. CenTrak's Clinical-Grade Visibility(TM) platform delivers unmatched accuracy, speed, performance and power-efficiency making it a smarter technology investment. CenTrak's Gen2IR(TM) technology delivers certainty-based location data, a requirement for workflow and other key healthcare management applications. CenTrak is currently deployed at hundreds of world-class healthcare facilities in the North America, Asia, Europe and the Middle East. www.centrak.com



Clinical-Grade RTLS(TM), Clinical-Grade Visibility Solutions(TM) Clinical-Grade Locating Solutions(TM) and CenTrak® are registered trademarks of CenTrak Inc.



CONTACT:

Adam Peck

1-215-860-2928

apeck@centrak.com

More from Adhesives & Sealants