Locating Pins offer alternative to NAAMS style.
Press Release Summary: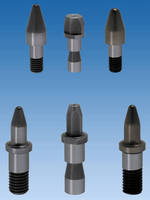 Featuring 3 mm flange thickness as well as 8 mm female thread size for 16 mm diameter shank, bullet nose locating pins are offered standard with round or diamond-shaped head styles. There are 3 shank designs available, including male/female thread or notched for set screw. Whether selected with flanged small/large head pin style, locating pins are offered with various dimensions for base, pin length, head taper start point length, and diameter. Choice of materials is also available.
---
Original Press Release:
Misumi Announces New Line of Bullet Nose Locating Pins
Products offered as design alternatives to NAAMS style pins December 1, 2008 - Schaumburg, IL- Misumi USA, Inc. announces a new line of bullet nose locating pins, the result of recent customer research by the company. These new Misumi locating pins, though not identical, are offered as design alternatives to the popular North American Automotive Manufacturing Standards (NAAMS) style pins. Users of such pins include machinery and equipment builders of all types, as well as assembly system designers and integrators. The NAAMS style pins are normally produced in very high volumes and the economies of scale allow the price points to be very competitive. However, Misumi conducted extensive customer research and found there are often requirements for such pins in lower quantities with special modifications, especially to the pin head diameter and overall length. This new line of bullet nose locating pins has several unique features, in response to these market needs. There are several differences between the NAAMS style pins and Misumi bullet nose pins. Examples of these differences are the flange thickness is 3mm instead of 5mm and the female thread size for 16mm diameter shank is 8mm instead of 10mm. A smaller head design with a flange and a larger pin head design with no flange are offered in the new line from Misumi. Plus, the customer can select from three shank designs, including male/female thread or notched for a set screw. Whether selected with the flanged small head or large head pin style, these locating pins are offered with multiple configurable dimensions on the base, pin length, head taper start point length and diameter; materials offered are 4137 alloy steel heat treated to 35~40HRC, SCM415 alloy steel case hardened to 55HRC with depth of 0.7-0.8mm, D2 tool steel heat treated to 55HRC with special Dicoat® coating that increases surface hardness to 3000HV. Round or diamond shaped pin head styles are standard. Depending on the style chosen, the pin length can be configured in 1mm increments up to 40mm and the shank diameter can be configured in 0.1mm increments to 32mm. Besides the configurable dimension and material choices, these new Misumi bullet nose locating pins are affordably priced, even in very low quantity. As always with Misumi, there is no tooling charge or minimum order requirement. Even a configured pin can ship in 6 or 8 working days, depending on the style selected. Additional modifications to the flange thickness or flat orientation are also offered at a slight upcharge from only $1-$5. For more information and complete pricing on these products, please visit our website at www.misumiusa.com. About MISUMI USA, Inc. Located in Schaumburg, Illinois, MISUMI USA, Inc. was established in 1988 as a subsidiary of Japan-based MISUMI Corporation. MISUMI USA, Inc. is a leading supplier of fixed and configurable components such as single-axis actuators, linear shafts, aluminum extrusions, linear guides, XY stages and other components for factory automation and various machine builds. For a complete list of available components, please visit www.misumiusa.com
More from Software