Loading Systems work with grinding machines.
Press Release Summary: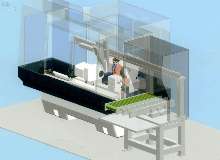 Loading Systems are suited for low-volume production runs or prototype work. Standardized mechanical modules feed and correctly position parts at clamping point. Centrally controlled and programmed, units permit loading and storing of parts before and after machining. Systems for external and universal machines are based on portal loading principle with V-grips. Swiveling loading systems are integrated inside internal grinding machines.
---
Original Press Release:

Studer Loading Systems Cut Cost of Automation


MIAMISBURG, OH - United Grinding Technologies, Inc. (UGT) announces the introduction of a new line of loading systems for certain models of Studer internal, external and universal grinding machines. These systems are designed to permit affordable automation for small shops that specialize in low volume production runs and/or prototype work.

Parallel directions
According to Hans Ueltschi, UGT national sales manager, in recent years Studer has been working in parallel directions: One, to further consolidated its position in the market for the precision grinding machines used in toolmaking and small-series production; and, two, working to strengthen its position in the market for complete systems. This has involved equipping its range of proven standard machines with loaders and measuring systems, transforming them into highly complex production units.

"Studer normally handles production systems like these as turnkey projects," Ueltschi says, "drawing on our reserves of expertise in machine building, process integration and grinding technology. However, today there has also been a noticeable increase in demand from customers in the job shop sector for machines that can integrate a changing system to increase productivity and automation while retaining a high level of flexibility for retooling purposes".

This demand, Ueltschi notes, simply reflects the requirements of the job shops' own customers, more and more of whom are demanding competitively priced high-precision parts, even for very small production runs. Added to this is that long-term supply agreements are increasingly rare, which means customers are uncertain as to how to finance and write off such systems.

"As machine manufacturers, we are under pressure from our customers to build machines that meet their productivity and versatility requirements while keeping their investment at a tolerable level," Ueltschi says, "and Studer has addressed this issue and developed a number of loaders for external and internal grinding machines that go a long way towards solving what appears on the surface an apparent contradiction."

Loading systems
The new loading systems were designed to meet the need for:
o standardized, mechanical basic modules designed to feed and correctly position parts at the clamping point;
o loading modules that can be controlled and programmed in the central machine control system;
o basic solutions that permit the loading and storing of parts before and after machining, facilitating simple change-over from one part to another in the same family;
o and solutions that can be implemented at the same prices as the typical options in Studer machine price lists

"Once put into practical use, these concepts permit standardized prefabrication of subassemblies, which results in reduced production costs and throughput times. At the same time, it is possible to reduce the share of the project costs specifically apportionable to the customer's needs," Ueltschi says. "This leads to lower production and project costs, which we can then pass on to the customer in the form of lower prices."

Standardized loading solutions are currently available for the the S120, S140 and S140 Simultan internal grinding machines and the S21, S31 and S40 external and universal grinding machines

S120 and S140
In order to reduce workpiece-change time, Studer has developed a swivelling loading system that is integrated inside the machine and reduces part-changing times to less than two seconds. The loading system has clearly defined hand-off points for unmachined and finished parts. This permits the simple transport and storing of parts in the feeder and the creation of standardized automation systems in keeping with the "keyhole" principle (ramp which goes through the machine enclosure).

External and universal machines
For the S21, S31 and S40 machines, Studer offers a loading system based on the portal loading principle with V-grips. The system is suitable for irregularly shaped workpieces measuring up to 300mm in length and 35mm in diameter, and, thus, covers a large proportion of the parts produced on these machines.

"Parts can be fed into the system via the basic module," Ueltschi says, "which is located on the outside of the machine, either on a standardized adjustable belt or pallets. The enclosure for the basic module was designed to fit snugly round the machine and allows the operator to work safely and unhindered. Regardless of work-piece size or equipment, changeover times of under seven seconds are typical."

Studer universal, external and internal grinders are supported by an expert team of grinding specialists and technicians drawing on more than 10,000 machine installations and a worldwide support and service network.

United Grinding Technologies, Inc., the North American arm of the K6rber-Schleifring Group and supplier of such venerable nameplates as Blohm, Ewag,, Jung, Magerle, Studer, Studer Schaudt and Studer Mikrosa, is a global leader in grinding technology and has built a reputation for industry-leading innovation and unparalleled service and support.

For more information, contact United Grinding Technologies, Inc.; 510 Earl Blvd., Miamisburg, OH, 45342. Tel: 937/847-1222. Fax: 937/859-1115. www.grinding.com.

More from Sensors, Monitors & Transducers