Loading Device meters additives into gravimetric feeder.
Press Release Summary: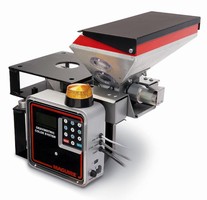 Designed for Maguire® MGF feeder, loading device is used to meter colorant or additive into plastics processing machine. It transports material to feeder from gaylord, drum, or other container and fills feeder just once, upon signal from feeder controller that level of color or additive has fallen to 10% of feeder hopper capacity. Loss-in-weight measuring function of feeder continually tracks and adjusts for dosing errors without interference or distortion from addition of new material.
---
Original Press Release:

New Loading Device for Low-Cost Gravimetric Additive Feeder Yields Level of Accuracy Unachievable with Volumetric System



ANAHEIM, CA, January 29, 2008: An advanced method of loading material into a gravimetric feeder makes it possible to meter colorant or additive into a plastics processing machine with a degree of accuracy far exceeding that achieved with a volumetric feeder, it was announced today by Maguire Products, Inc., which is introduce the feeder/loader combination at Plastec West (Booth 3824)

Even with the addition of an advanced loading system, Maguire® MGF feeders cost no more than comparable volumetric feeders, according to Frank Kavanagh, national sales manager, and they provide the superior precision, consistency, and data generation characteristic of gravimetric systems. "The enhanced accuracy of MGF Series gravimetric feeders enables molders and extrusion processors to reduce color and additive consumption, increase control over product quality, and document color usage for each production run," said Kavanagh.

The feeders are available with throughput capacity of up to 35 lb (16 kg) per hour and can be mounted directly to the throat of most molding machines or extruders. The new loading device, a direct descendant of venturi loaders that Maguire has manufactured for many years, transports material to the feeder from a gaylord, drum, or other container. Rather than load continuously or intermittently, however, the loader rapidly and completely fills the feeder just once, upon a signal from the feeder controller that the level of color or additive has fallen to precisely 10% of feeder hopper capacity. In this way the loss-in-weight measuring function of the feeder, which is what makes a gravimetric system so accurate, continually tracks and adjusts for dosing errors without interference or distortion from the addition of new material. As a result, the feeder maintains dosage within tight tolerances from molding shot to molding shot and does so for hours as hopper material levels steadily decrease.

"The MGF feeder is the first gravimetric system to cost no more than a volumetric feeder," said Kavanagh, "and the new loading device is actually less expensive than other loaders used with feeders, whether gravimetric or volumetric. Operating on a principle that is one of the basic laws of physics, venturi devices are the least costly loaders available."

The Maguire MGF feeder is mounted on the processing machine exactly like the volumetric counterparts long offered by Maguire. It differs from competing gravimetric feeders in five ways:

1) One-third or more lower cost. The MGF feeder is the only gravimetric system that costs no more than its volumetric counterpart.

2) More accurate dosing. The MGF feeder has two load cells which monitor the loss in weight of colorant in the hopper as the material is fed into the processing machine by an auger. The hopper and auger tube are mounted atop the load cells. This loss-in-weight operation adds a new dimension of accuracy, according to Kavanagh: "Volumetric feeders do not monitor the weight of colorant as it is fed to the processing machine and thus generate no data about how much of the material is actually consumed from moment to moment. Because a gravimetric system generates a wealth of data on color consumption, it adjusts color metering far more accurately to account for process variations."

3) Automatic adjustment to maintain tolerances. A microprocessor controller with backlit display allows all dispensing parameters to be easily entered and automatically makes adjustments when accumulated error exceeds a predetermined setpoint.

4) Vibration management. Software perfected by Maguire for its weigh scale blenders enables the MGF feeder to adjust color metering to compensate for vibrations on fast-cycling molding presses.

5) Safeguard for the motor. A patent-pending torque-limiting drive coupling developed by Maguire protects the motor in the event of an auger jam.

New Gravimetric Feeders Readily Adjust for Process Variations

The controllers for the new MGF feeders have a digital counter that the operator uses to pre-set the precise amount of color to be added. This parameter is translated into the required degree of auger rotation.

In injection molding, the operator inputs the shot size and letdown ratio for the specific application. The auger doses color as the screw in the molding machine retracts, and the auger motor shuts off when the required amount has been supplied. Drawing on information fed back from the injection machine, the controller adjusts for screw slippage or changes in rate.

In extrusion, the operator inputs throughput rate and letdown ratio. The controller regulates auger motor speed to automatically adjust for changes in screw torque, plant voltage, or raw material.

By tracking and adjusting for actual colorant consumption, the MGF feeders not only provide even greater accuracy and consistency but also make possible detailed documentation of the entire production run, including a shot by shot account of color dosing in injection molding. The new feeders can be linked in a plant-wide network.

MAGUIRE PRODUCTS, INC., headquartered in Aston, Pennsylvania, U.S.A., is the world's largest supplier of gravimetric blenders and liquid color pumps and also manufactures loading systems, dryers, auger feeders, and related equipment and software. Its customers include injection, blow, and rotational molders, extrusion processors, and compounders. Founded in 1977, Maguire operates five manufacturing facilities in Aston and Smithfield, Rhode Island, U.S.A. The company maintains a network of distributors in the Americas and overseas and has three sales and service subsidiaries that stock, sell, and service auxiliary equipment systems from Maguire and its affiliate, Novatec, Inc.: Maguire Canada, headquartered in Vaughan, Ontario; Maguire Europe, supporting customers throughout Europe and operating a distribution center in Tamworth, Staffordshire, UK; and Singapore-based Maguire Asia, serving customers throughout South Asia and the Pacific Rim. Visit the Maguire Products web site: www.maguire.com