Load Switches provide multiple slew rate options.
Press Release Summary: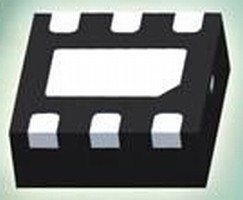 Designed to protect applications with capacitive loads from voltage and current transients, IntelliMAX(TM) FPF1007-9 Series offers slew-rate times of 10 µs, 80 µs, and 1 ms. Longer slew rates ensure slower turn-on time, which results in limiting in-rush current into capacitive circuit elements. Utilizing lead-free terminals, RoHS-compliant switches are suited for cameras, handsets, and other portable electronics.
---
Original Press Release:

Fairchild Semiconductor's IntelliMAX(TM) Slew-Rate Controlled Load Switches Offer Ease of Design for Portable Electronics



The FPF1007-1009 Series Provides Multiple Slew Rate Options for Cameras, Handsets and Other Portable Applications

San Jose, California - March 11, 2008 - Fairchild Semiconductor (NYSE: FCS) offers design engineers a series of advanced load switches with multiple slew-rate options that protect circuits from undesirable voltage and current transients. The FPF1007-9 series has been specifically designed to protect applications with capacitive loads. During turn-on, these loads typically cause transient current spikes and voltage sags - which may cause issues in the end application. The FPF1007-9 family features slew-rate times of 10µs, 80µs and 1ms, providing the designer flexibility in choosing the slew rate that best fits their application. Longer slew rates ensure a slower turn-on time, which results in limiting the in-rush current into the applications' capacitive circuit elements. As with all of Fairchild's IntelliMAX switches, these slew-rate controlled load switches provide a protection interface between the application circuitry, battery and other accessories, and with their high level of integration they simplify designs, reduce component count and minimize board space - attributes that are critical to mobile and consumer applications.

The FPF1007-1009 series of slew-rate controlled load switches provide designers with system stability over the entire operating range and robust protection from voltage sags and current spikes. This is especially important in handsets and other portable devices where suppressing transients with a slower turn-on time or slew rate is essential. Industry trends are driving lower operating voltages while adding more functionality, and application processors in portable applications can be particularly sensitive to voltage transients. If the processor supply voltage drops below the minimum threshold, it may find itself in an ill-defined operating state, likely resulting in a reset condition. Similarly, repeated current spikes may cause undue strain on the circuit components, causing long-term degradation or component failure, which could seriously compromise overall system performance.

Fairchild offers the industry's broadest portfolio of advanced load switch solutions. IntelliMAX advanced load switches provide a unique combination of protection and control features that reduce board space, component count and design complexity in power management designs. For more information about the entire IntelliMAX family of products, please go to www.fairchildsemi.com/intellimax.

The FPF1007, FPF1008 and FPF1009 utilize lead-free (Pb-free) terminals and have been characterized for moisture sensitivity in accordance with the Pb-free reflow requirements of the joint IPC/JEDEC standard J-STD-020. All of Fairchild's products are designed to meet the requirements of the European Union's Directive on the restriction of the use of certain substances (RoHS).
Price (each, 1000 pcs.): US $0.57

Availability: Samples available now
Delivery: 14 weeks ARO

Contact Information:
To contact Fairchild Semiconductor about this product, please go to: www.fairchildsemi.com/cf/sales_contacts/.

For information on other products, design tools and sales contacts, please visit: www.fairchildsemi.com.

About Fairchild Semiconductor:
Fairchild Semiconductor (NYSE: FCS) is a global leader delivering energy-efficient power analog and power discrete solutions. Fairchild is The Power Franchise®, providing leading-edge silicon and packaging technologies, manufacturing strength and system expertise for consumer, communications, industrial, portable, computing and automotive systems. An application-driven, solution-based semiconductor supplier, Fairchild provides online design tools and design centers worldwide as part of its comprehensive Global Power ResourceSM. Please contact us on the web at www.fairchildsemi.com.

More from Sensors, Monitors & Transducers