Load Switch suits portable battery powered applications.
Press Release Summary: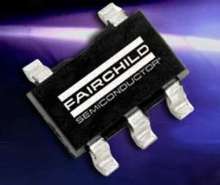 Housed in low-profile SC-70 package, IntelliMAX low-power load switch offers input voltage range of 1.8-5.5 V, controlled switch turn-on, current-limiting with 50 mA or 100 mA options, under-voltage lockout, and thermal shutdown. Lead-free product features shutdown current of 1 µA to conserve battery life. Unit is suited for cell phones, MP3 players, digital still cameras, notebook computers, networking products, and PDAs.
---
Original Press Release:

Fairchild Semiconductor's New IntelliMAX Series Addresses Low-Power Requirements for Ultra-Portable Products


Advanced low-voltage load switches integrate the most features in an SC-70 package; approach simplifies designs and speeds time-to-market

San Jose, CA : January 20, 2005: Expanding its suite of load switch technology for ultra-portable solutions, Fairchild Semiconductor (NYSE: FCS) today announced the first in a series of "IntelliMAX" integrated low-power load switches targeting portable battery-powered applications. Offering a unique combination of protection, control and fault monitoring features in one low-profile SC-70 package, advanced IntelliMAX devices meet critical board space, system architecture, and customer time-to-market requirements for cell phone handsets, MP3 players, digital still cameras, notebook computers, networking products and PDAs. In addition, they are well suited for low-voltage in-rush current control in telecom/industrial equipment. FPF200X devices' wide input voltage range of 1.8 to 5.5 V is ideal for today's electronics with battery-operating voltages that can dip as low as 1.8 V.

Each IntelliMAX load switch replaces multiple active and passive components used in traditional analog IC control functions and MOSFET power switch approaches. In addition to saving circuit board area, the IntelliMAX integrated approach speeds time-to-market by providing the designer with a choice of products that enables total flexibility in implementing hardware or software control techniques. The reduced number of components required to accomplish this also leads to substantial inventory and assembly cost-savings.

The FPF200X series offers a range of device options, providing designers with the flexibility to address a multitude of system architectures. Each FPF200X load switch includes controlled switch turn-on, current-limiting with 50 mA or 100 mA options, under-voltage lockout and thermal shutdown. Also included are a flag for fault conditions with options for fault blanking; and auto-restart functions, all with 4KV ESD protection. IntelliMAX also features low-shutdown current (<1 uA) to conserve battery life, and a fast current limit response time (3 us for nominal over-current conditions, 20 ns for hard short conditions) for safety/fault protection.

"The new FPF200X series of IntelliMAX advanced load switches offer designers an off-the-shelf solution that greatly simplifies designs while delivering excellent power management, load-control and protection benefits," said Izak Bencuya, chief strategy officer and Power Discrete Group executive vice president/general manager for Fairchild Semiconductor. "IntelliMAX technology combines the best of low-voltage power semiconductors and analog control circuitry with surface-mount packaging technology to optimize solutions for the latest ultra-portable products. Our advanced FPF200X load switch products are the first in a series of single package, multi-function IntelliMAX products."

These products are lead-free (Pb-free) and meet or exceed the requirements of the joint IPC/JEDEC standard J-STD-020B and are compliant with the European Union requirements that are now in effect.

For more information about the FPF200X series please go to: www.fairchildsemi.com/fpf200xfamily/fpf200x.html.

For information about this and other Fairchild products, design tools, and sales contacts, please visit www.fairchildsemi.com.

Availability: Now

Delivery: 4 weeks ARO

Fairchild Semiconductor:

Fairchild Semiconductor (NYSE: FCS) is the leading global supplier of high performance power products critical to today's leading electronic applications in the computing, communications, consumer, industrial and automotive segments. As The Power Franchise., Fairchild offers the industry's broadest portfolio of components that optimize system power through minimization, conversion, management and distribution functions. Fairchild's 9,000 employees design, manufacture and market power, analog & mixed signal, interface, logic, and optoelectronics products from its headquarters in South Portland, Maine, USA and numerous locations around the world. Please contact us on the web at www.fairchildsemi.com.

More from Paints & Coatings