DC to DC Power Supplies (Converters)
Load Sharing Modules efficiently parallel DC/DC converters.
Press Release Summary: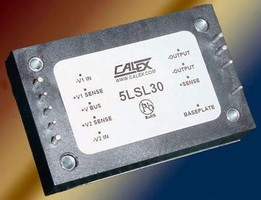 Featuring 99% efficiency (typ) and 60 A max output current, Load Share Series is comprised of 6 modules that offer plug-and-play solutions for paralleling multiple dc/dc converters to achieve increased current capability and/or power system redundant load sharing. No external circuitry is required, and models cover 3.3-48 V nominal input voltages. Models are housed in ¼ brick package measuring 2.28 x 1.45 x 0.50 in. Baseplate operating temperature is -40 to 100°C.
---
Original Press Release:

Load Sharing Module for DC/DC Converters



Calex Mfg. Co., Inc. of Concord, California announces the Load Share Series of modules which provide a unique "plug and play" solution for paralleling multiple DC/DC converters. For those who have attempted to parallel DC/DC converters, it is not a simple task. Simply running the output traces in parallel on your pcb generally will result in one DC/DC converter attempting to supply the majority of the output current thus resulting in an overload condition. Due to component tolerances and production variances, the start-up profiles for the same model DC/DC converter may vary. If one converter starts into a full load condition in a parallel circuit prior to the other DC/DC converter module(s) this may result in an over-current condition resulting in system failure.

Calex Mfg. is the first to offer a truly modular solution significantly simplifying the task of paralleling DC/DC converters for increased current capability and/or power system redundant load sharing. No external circuitry is required with any of the the Calex Load Share models. There are six models in the Series covering 3.3 to 48 Volt nominal input voltages. Maximum output current is 60A. All models achieve 99% efficiency typically and utilize aluminum substrate technology for thermal management.

The Load Share Series utilizes "active load sharing" with low-side sensing resulting in very accurate load sharing with minimal load regulation issues. The low-side sensing in combination with the differential load share bus communication technology designed into the Load Share module results in a very high level of noise immunity. The Load Share modules also utilize the sense point as the point of regulation which gives the designer the ability to use the DC/DC converter trim function in the system design.

The Load Share models are housed in a 1/4 brick package measuring 2.28" x 1.45" x 0.50"H. The baseplate operating temperature is -40 to 100C. Lead time for the Load Share modules is 6-8 weeks ARO. For more information go to www.calex.com or contact Calex Mfg. at 800-542-3355 or 925-687-4411. The Calex corporate address is 2401 Stanwell Drive, Concord, CA 94520 USA. Calex has manufacturing facilities in both Concord and Tijuana Mexico. Calex manufactures a variety of modular power solutions for military and avionics applications, DC/DC Converters, AC/DC Power Supplies and Instrumentation products. All Calex products are backed by our five year warranty. The Load Share Modules are available with either RoHS or non-RoHS construction. Contact the factory for details.

More from Software