Load Profiling Meter aids in building energy management.
Press Release Summary: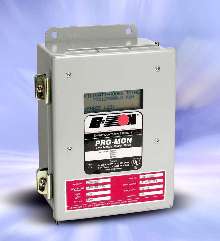 Pro-MON(TM) Meter offers Ethernet/IP addressability and Modbus RTU protocol compatibility. RF-45 connector allows single meter or up to 52 daisy-chained meters to be connected to 10-BaseT or 100-BaseT LAN for each IP address. Pro-MON can integrate meter data via standard RTU protocol into any Modbus-compatible building energy management or industrial control system. It stores up to 36 days of data collected in 15 min intervals, or up to 12 days at 5 min intervals.
---
Original Press Release:

E-MON Improves Building Management Systems, Industrial Controls with Pro-MON Meter


- Ethernet, IP and Modbus Features Allow Greater Energy Cost Savings -

LANGHORNE, Pennsylvania - Sept. 16, 2003 - E-MON, L.P., the industry leader in energy submetering equipment, today announced the availability of two powerful new communications options to its popular Pro-MON(TM) Load Profiling Meter: Ethernet/IP addressability and Modbus RTU protocol compatibility. Ethernet is estimated to comprise more than 80% of the world's installed Local Area Networks (LAN). Modbus is regarded as one of the leading open protocols for factory floor and industrial control system networks. These options make the Pro-MON an even more flexible and versatile platform for the full spectrum of end use metering needs in commercial and industrial building energy management and control systems.

Commercial and industrial customers can significantly improve their existing building automation and industrial control systems by metering their electrical equipment and using the data to optimize their control parameters to lower their energy costs. Real-time and historical load profiles graphically depict how the energy-intensive equipment, such as production lines and air conditioning systems, contribute to peak demand. The energy manager can then use this data to shed or move non-critical loads that are causing the peaks. The combination of energy measurement and control is a powerful tool for energy conservation and real dollar savings.

The Ethernet/IP Addressable Advanced Pro-MON provides an RF-45 connector that allows a single meter, or up to 52 daisy-chained Pro-MON meters, to be connected to a 10-BaseT or 100-BaseT LAN for each individual IP address. A private or public Internet Protocol (IP) address permits the meter to be used for internal building networks (intranet) or the Internet.

The Modbus Advanced Pro-MON can integrate meter data via standard RTU protocol into any Modbus-compatible building energy management or industrial control system. Compatibility with existing Modbus software allows the Pro-MON to be quickly and easily installed and configured without additional proprietary software purchases. Up to 52 Pro-MON meters may likewise be daisy-chained via RS-485 serial communications link to an energy management system or Modbus control unit. A wide variety of accumulated and real-time data may be acquired in this manner, including (total and per-phase): KW, KWH, KVARH, KVA, power factor, amperage, voltage, frequency and phase angle, among others.

Available in a broad selection of standard three-phase delta and wye voltage and current ranges, the PRO-MON meter can optionally provide a number of advanced metering functions including: alarming and control with Form C relay output; net-metering capability; a third channel for storing reactive (KVAR) data in the meter's interval data readings, and more. The meter can store up to 36 days of data collected in 15-minute intervals, or up to 12 days at five-minute intervals. Other features include installed current sensor diagnostic capability, optional cellular modem, and accessories. The meter physically measures 8.0" (H) x 6.0" (W) x 4.0" (D).

Prices start at $858 and the meters are available now from more than 3,000 distributors. For the nearest distributor location, call E-MON at (800) 334-3666 or visit www.emon.com.

E-MON is a registered trademark and Pro-MON is a trademark of E-MON, L.P.

Business Development Contact:
Don Millstein, President
E-MON, L.P.
(800) 334-3666
dmillstein@emon.com