Load Cell Signal Conditioner offers Bluetooth option.
Press Release Summary: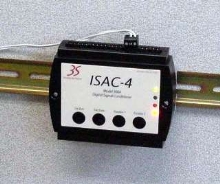 Model ISAC-4 combines functions of load cell calibrator, weight indicator, signal conditioner, and wireless transceiver in one package. It includes on-board algorithms, analog 4-20 mA current loop, voltage level outputs, and RS232/RS485 serial communications. With optional BlueWeigh communications module, all features are accessible using Bluetooth enabled portable devices. Model ISAC-4 retrofits into existing scale installations and any sensors with mV outputs.
---
Original Press Release:

Sensor System Solutions, Inc. (3S) Announces New 4-Channel Load Cell Signal Conditioner With Bluetooth Wireless Option


IRVINE, CALIFORNIA - Sensor System Solutions, Inc. (OTCBB: SSYO) introduced a new product - Model 3004 (ISAC-4) 4-Channel load cell signal conditioner. ISAC-4 is a highly integrated module specifically designed for multiple load cell weighing platforms. On-board algorithms make load cell matching and calibration simple and quick. ISAC-4 can be used to simply replace a passive summing box or can be used as a sophisticated embedded scale controller. It combines the functions of a load cell calibrator, weight indicator, signal conditioner and wireless transceiver all in one small package. ISAC-4 is designed to be easily retrofitted into any existing scale installation and any other sensors with mV outputs.

ISAC-4 is an intelligent signal conditioner that features analog 4-20 mA current loop and voltage level outputs. On-board digital outputs can be set to trip at user set levels for simple process control. ISAC-4 can communicate to a host over RS232 or RS485 serial communications. The host can be a PC or Digital Indicator that supports the ISAC protocol. Onboard diagnostics isolate faulty conditions such as failed or drifting load cells. ISAC is designed to integrate seamlessly with legacy equipment allowing existing installations to be upgraded at low cost. Combined with BlueWeigh, an optional Bluetooth communications module, all ISAC-4 features are accessible using Bluetooth enabled portable devices such as a PDAs and Laptop PCs.

With the optional 3S's PDAWeigh(TM) program and BlueWeigh wireless module, users can remotely perform numerous scale functions which include: multiple point calibration, and diagnostics. The embedded TrimCal(TM) algorithm combines load cell trimming and scale calibration into a single step that takes less than a minute to perform. Private label or custom design for OEM application is also available.

Based in Irvine, California, 3S develops and markets Micro-Electro-Mechanical Systems (MEMS) and thin-film sensors to medical, chemical, oil, and gas industries. 3S also offers a line of specialty products to allow process-oriented industries to bring new levels of intelligent control and monitoring to their operations. These products include wireless data acquisition and sensor interface devices, and intelligent data collection and distribution products.

For more information, contact: Danny Uehara, Sensor System Solutions Inc., 45 Parker Street, Suite A, Irvine, California 92618, Phone: 949-855-6688 ext.110, Fax: 949-855-6685, E-mail: sales@corp3s.com. Web site: http://www.corp3s.com/

More from Thermal & Heating Equipment