Load Cell Calibrator verifies forces to ASTM standards.
Press Release Summary: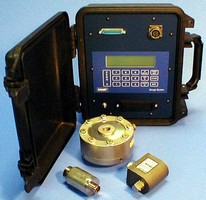 Designed to be combined with load cells, digital Gauge Buster Calibration Unit is used to certify materials testing machines, presses, and other load weighing equipment to ASTM E4 Force Verification standards. Up to 10 load cell calibrations can be stored, with 15 points of linearization in each calibration, and remote pushbutton is included to freeze current load and record it from display. Calibration results can also be imported into reports to produce certifications.
---
Original Press Release:

ADMET Offers Digital Load Cell Calibration Unit



NORWOOD, Mass. - April 16, 2008 - ADMET Inc., a provider of integrated materials testing systems, now offers a digital tool for force calibration. Called the Gauge Buster Calibration Unit, it is designed to be combined with load cells to certify materials testing machines, presses and other load weighing equipment to ASTM E4 Force Verification standards.

Useful for calibrators and manufactures of force transducers, the Gauge Buster Calibration Unit stores up to ten load cell calibrations with 15 points of linearization in each calibration. The unit includes a remote pushbutton to freeze the current load and record it from the Gauge Buster display. Calibration results can also be imported into reports to produce certifications.

Portable ADMET Gauge Buster Calibration Unit

ADMET's manufacturing process combines the Gauge Buster Calibration Unit with a load cell from ADMET's extensive load cell catalog or from the customer. ADMET creates custom load tables for the specific Gauge Buster/load cell combination and sends the package to an Accredited Force Calibration Lab for certification according to ASTM E74 Class A standards. The resulting system is capable of verifying forces on hydraulic and electromechanical testing machines, presses and pre-stressing rigs.

The Gauge Buster Calibration Unit is available in both a standard AC model and a battery-powered portable unit for remote applications. The portable unit can operate up to eight hours on a full charge.

"The Gauge Buster Calibration Unit is a handy tool for performing ASTM E4 force verifications in the field," said Richard Gedney, ADMET founder and president. "We have worked with companies that verify force calibrations since our founding in 1989, so we understand what they need in a calibration tool to reliably and cost-effectively certify equipment."

The Gauge Buster Calibration Unit is available immediately from ADMET. It is priced at $1,430 for the standard unit and $1,995 for the battery-powered portable unit. Load cell pricing varies, or customers can connect to their existing load cells. See www.admet.com/assets/GaugeBusterOptions.pdf for additional information or contact ADMET at sales@admet.com or call 781-769-0850.

About ADMET

ADMET Inc., founded in 1989 and based in Norwood, Mass., combines high-quality products and services to deliver the most efficient and cost effective materials testing systems. Its products range from new and used universal testing frames and components, to software and specialized control units, and grips and fixtures. The company also retrofits electromechanical, hydraulic and digitally controlled testing machines from any manufacturer to deliver more reliable test results, simplify operations, meet international standards and integrate with data collection systems. Highly skilled engineers provide customers with personalized research and development services and support to make ADMET the most responsive materials testing equipment supplier. ADMET's loyal customer base includes leading manufacturers, testing labs, researchers and universities in aerospace, automotive, biomedical, concrete, construction, metals, plastics, textiles and other industries. ADMET's products are widely distributed in North America, Central and South America, Europe, the Middle East and the Pacific Rim. ADMET can be reached at 781-769-0850, sales@admet.com or by visiting www.admet.com.

All trademarks are the property of their respective owners.

ASTM-American Society for Testing Materials

More from Electronic Components & Devices