Load Bank System is custom built for wide range power needs.
Press Release Summary: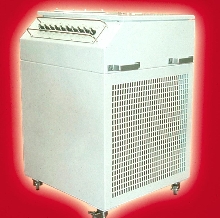 Load bank provides energy dissipation for sources generating from 1 kW to multi-megawatts of power, in voltages from 12 Vdc to 780 Vac or dc. AC unit is available for 50, 60, or 400 Hz line frequencies. Applications include testing diesel generators, braking resistors for traction or inverter drives, base loading of remote or standby power plants, battery discharge testing, and UPS testing.
---
Original Press Release:

Chromalox(R) Adds Custom Design Capabilities to Its Line of Load Bank Energy Dissipation Units


PITTSBURGH, June 20, 2002 - Chromalox, a leading supplier of industrial heating solutions, announces that its full line of load bank energy dissipation units is being expanded with new custom design capabilities. Chromalox load banks provide durable and accurate energy dissipation for sources generating anywhere from 1 kW of power to multi-megawatts of power. These load banks are designed for voltages from 12 VDC to 780 VAC or VDC, and most voltage combinations can be accommodated within a single frame. The AC units are available for 50 Hz, 60 Hz or 400 Hz line frequencies.

Chromalox will custom build load bank systems to any specification within the parameters defined above. A full range of monitoring capabilities is available, from a simple status display box or data logger, to remote monitoring over a data communications network. Alternative cooling systems are available, including water-cooled units for shipboard applications, and units without fans for engine radiator mounting.

Chromalox load banks can be switched online as needed with multi-stage contactors, providing graduated control and circuit protection. Loads can be progressively applied in 1 kW increments up to full load, thereby preventing large current spikes. To protect load banks, high-limit controls for temperature, and low-limit controls for airflow are an integral part of each load frame. An easy-to-use keypad enables operators to enter a load value before pressing the "enter" key that actuates the contactors. A remote control keypad on a 25-meter cable is also available for load applications from inside a generator room.

These load bank energy dissipation units hold resistances within +/-5 percent of hot operating resistance. Thermally protected fan motors are easily accessible; hinged, lockable doors or bolt-on panels protect components and electrical connections.

Chromalox load bank systems are constructed of stainless steel for strength and corrosion-resistance. Alloy steel sheathed tubular heating elements stand up to harsh weather and heavy rain. All electrical enclosures are protected to IP54 requirements (NEMA 3R) and can be UL-listed and CE-marked. For applications requiring mobility, Chromalox can fit units up to 500 kW with casters for easy positioning. Larger units are skid-mounted for easy transportation.

Applications:
- Factory or field testing diesel generators
- Braking resistors for traction or inverter drives
- Base loading of remote or standby power plants
- Battery discharge testing
- UPS testing
- Marine applications

For more information. Visit the company's web site (www.mychromalox.com) for Product Data Sheets with complete specifications and pricing information for any Chromalox product. Or contact Chromalox at:

Telephone: 800-443-2640
412-967-3800
FAX: 412-967-5148
Address: Chromalox
103 Gamma Drive Ext.
Pittsburgh, PA 15238

About Chromalox, Inc.
For more than 85 years, customers have relied on Chromalox for the utmost in quality and innovative solutions for industrial heating applications. Chromalox manufactures the world's largest and broadest line of electric heat and control products, including heating components, immersion heaters, circulation systems, heat transfer systems, boilers, industrial and comfort air heating, heat trace cables, sensors and precision electronic controls. With multiple manufacturing, engineering, warehousing and sales locations throughout North America and Europe, Chromalox is a global supplier providing the highest level of customer support. Chromalox is headquartered in Pittsburgh, PA.


More from Laboratory and Research Supplies and Equipment