Load Balancer ADCs offer increased throughput and port count.
Press Release Summary: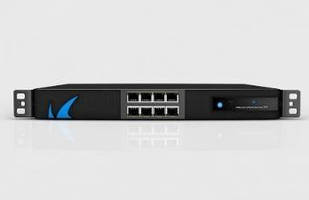 Load Balancer ADC models 340 (4-port), 440 (4-port), and 540Â (8-port) help organizations deploy hardware-based server load balancing to critical internal IT and customer-facing applications. Additionally, model 840 (8-port) includes hardware-based SSL acceleration to support higher transactions per second for high performance web application security and SSL offloading. Respective throughputs for models 340, 440, 540, and 840 are 1.2, 2, 4, and 10 Gbps.
---
Original Press Release:

Barracuda Load Balancer ADC Product Line Receives Performance Boost



New Hardware Revisions are Released Maintaining Existing Price Points



CAMPBELL, Calif. -- Barracuda Networks, Inc. (NYSE: CUDA) -



Press Release Highlights:

--  Barracuda increases the performance across the Barracuda Load Balancer ADC product line without any price increases.

--  Barracuda doubles the port capacity of its Load Balancer ADC models 340, 440, and 540, to help cost-conscious organizations deploy hardware-based server load balancing to their critical internal IT and customer-facing applications.

--  For high performance web application security, Barracuda Load Balancer ADC model 840 includes hardware-based Secure Sockets Layer (SSL) acceleration to support higher transactions per second and SSL offloading.



Barracuda announces today that it is increasing the capacity and performance of its Load Balancer ADC models without increasing prices. With this announcement Barracuda is doubling the port capacity of its Load Balancer ADC models 340, 440, and 540 to help cost-conscious organizations deploy hardware-based server load balancing to their critical internal IT and customer-facing applications. Additionally, Barracuda Load Balancer ADC model 840 includes hardware-based SSL acceleration to support higher transactions per second for high performance web application security and SSL offloading.



"We have long felt that most of the incumbents in the server load balancing space have priced their products outside the ranges accessible to many organizations who still require scalability, redundancy and security for their internal IT and customer-facing applications," explains Stephen Pao, GM Security, Barracuda. "Disrupting this space is why we entered this market over eight years ago, and it's why we're continuing to push these economics with these hardware revisions today."



Barracuda Load Balancer ADC combines server load balancing, access control, and application security. Hardware improvements include:



--  Throughput - Increases the throughput on model 340 from 1Gbps to 1.2 Gbps. Doubles the throughput on model 440 from 1 Gbps to 2 Gbps, and on model 540 from 2 Gbps to 4 Gbps.

--  Networking Ports - Doubles the number of 1GbE networking ports on models 340 and 440 from 2 ports to 4 ports, and model 540 from 4 ports to 8 ports. The increased ports from 2 to 4 ports on the models 340 and 440 enable them to support the higher throughput, redundant link aggregation, and additional flexibility to physically isolate VLAN networks.

--  Hardware-based SSL Acceleration in Barracuda ADC model 840 - Increases the performance of enforcing web application security for SSL encrypted web transactions and offloading SSL operations from backend application servers.

--  No Changes to Pricing - The latest hardware revisions feature the highest performance-to-price ratio with the most robust networking options.



For more information, please visit http://cuda.co/loadbalanceradc.



Pricing and Availability

The latest hardware revisions for the Barracuda Load Balancer ADC are available immediately.  Barracuda Load Balancer ADC list pricing starts at $1499 USD. Energize Updates for Barracuda Load Balancer ADC start at list price $249 USD. An optional Instant Replacement service featuring priority replacement of failed hardware and complimentary refresh of four-year old hardware units is available starting at list price $349 USD per year. Featured model list prices are below:


| | | | | | | |
| --- | --- | --- | --- | --- | --- | --- |
|   | Ports | Throughput | Global Server Load Balancing | Integrated WAF | Hardware SSL | Hardware List Price |
| 340 | 4 | 1.2Gbps |   |   |   | $1,999 |
| 440 | 4 | 2Gbps | X |   |   | $3,999 |
| 540 | 8 | 4Gbps | X | X |   | $6,999 |
| 840 | 8 | 10Gbps | X | X | X | $19,999 |



International pricing and availability vary by region.



Barracuda Load Balancer Product Family



Serving different types of data center architectures, the Barracuda Load Balancer product family includes the Barracuda Load Balancer ADC - providing consolidated delivery and security, and the Barracuda Load Balancer FDC -delivering high throughput traffic distribution. For more information about the Barracuda Load Balancer product family, please visit

http://cuda.co/appdelivery.



About Barracuda Networks, Inc. (NYSE: CUDA)

Barracuda (NYSE: CUDA) provides cloud-connected security and storage solutions that simplify IT. These powerful, easy-to-use and affordable solutions are trusted by more than 150,000 organizations worldwide and are delivered in appliance, virtual appliance, cloud and hybrid deployments. Barracuda's customer-centric business model focuses on delivering high-value, subscription-based IT solutions that provide end-to-end network and data security. For additional information, please visit barracuda.com.



Contacts

Jonelle Elam

Barracuda Networks Inc.

408-342-6415

jelam@barracuda.com



Nick Gonzalez

Barracuda Networks Inc.

408-342-6482

ngonzalez@barracuda.com



Web Site: https://www.barracuda.com

More from Printing & Duplicating Equipment