LNE-320W Series of LED Drivers meet IP65/IP67 standards.
Press Release Summary: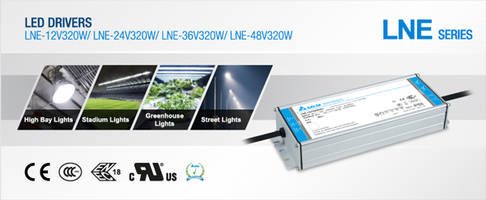 Available in 12 V, 24 V, 36 V and 48 V output voltages, LNE-320W Series of LED Drivers are housed in corrosion resistant aluminum casing. Unit comes with adjustable output voltage, current levels and LED brightness with 3-way built-in dimming options. Offering more than 700,000 hrs of MTBF, units meet IEC/EN 61000-3-2, Class C standards. Drivers come with 6kV and 4kV of common mode and differential mode surge immunity.
---
Original Press Release:
Delta Extends the Constant Current/ Constant Voltage LNE Series of LED Drivers with 320W Output Power
Delta Electronics has added the LNE-320W model to the constant current/constant voltage LNE series of LED Drivers with output voltage of 12V, 24V, 36V and 48V. The single output product comes with different combinations of features to suit different application requirements and energy optimization needs. The options include externally adjustable output voltage and current levels; and adjustment of LED brightness via 3-way built-in dimming function. The LNE-320W series meets ErP Directive (2009/125/EC) for International models LNE-320WACA.
All models in the LNE series are encased in a full corrosion resistant aluminum casing and rigorously tested for the highest quality. High surge immunity (common mode: 6kV, differential mode: 4kV), MTBF > 700,000hrs and compliance to IP65/IP67, all make the Delta LNE series an essential part of an energy efficient LED lighting power solution for both indoor and outdoor applications. In addition, the product comes with major international safety certifications and is compliant with EN 55015 Immunity/ Emissions/ Harmonic requirements.
Highlights & Features
Meet ErP Directive (2009/125/EC) for International models
North American and International AC voltage options
Up to 94.5% efficiency
6kV common mode & 4kV differential mode surge immunity
Active PFC. Meets IEC/EN 61000-3-2, Class C
Adjustable voltage & current; dimming options available
IP65 or IP67 options for indoor and outdoor applications
Please contact your local sales representative or distributor for availability. New models are introduced on a regular basis. For product details and enquiries, you can also visit www.DeltaPSU.com.
About Delta Group
Delta Group, founded in 1971, is the global leader in power and thermal management solutions. Our mission statement, "To provide innovative, clean and energy-efficient solutions for a better tomorrow," focuses our role in addressing key environmental issues such as global climate change. As an energy-saving solutions provider, Delta's businesses encompass power electronics, energy management, and smart green life. Delta has sales offices worldwide with R&D centers and manufacturing facilities in Taiwan, China, USA, Europe, Thailand, Japan, Singapore, India, Mexico and Brazil.
Throughout its history, Delta Group has received many global awards and recognition for its business milestones, innovative technology and corporate social responsibility. Since 2011, Delta has been selected as a member of the prestigious Dow Jones Sustainability™ World Index (DJSI World) for 3 consecutive years. In 2013 it was also included in the DJSI Emerging Markets Index and ranked first in six criteria among DJSI's World-leading Electronic Equipment, Instrument and Component Companies segment.
For detailed information about Delta Group, please visit: www.deltaww.com.
Contact:
Delta Electronics (Thailand) PCL.
909 Soi 9, Moo 4, Bangpoo Industrial Estate (E.P.Z.)
Pattana 1 Rd., T. Phrakasa, A. Muang
Samutprakarn 10280, Thailand
Phone: +66 2 7092800
Fax: +66 2 7092827
Related