Live Tool Spindles & Tool Holders for CNC Lathes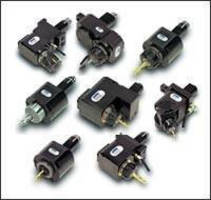 Bolt-on, VDI and other styles of mounting, including many of the "Quick-Change" tooling systems are available, all manufactured to meet the highest standards of quality using only the finest materials.



With features that include:



• Hardened and precision ground "contact" surfaces & tool platforms on all static tool holders.

• Spindle units are designed with the latest "state of the art" bearings and seals for optimum performance and reliability to meet the demands of todays manufacturing  environments.

• Integral coolant passages and hardened steel coolant nozzles for long life.



* Special Designs of Tool Holders & Spindle units, tool holder blanks, alignment bars, test mandrels and presetting equipment are also part of our program.



ITI Tooling Co. Inc. offers live and static tool holders for most models of CNC lathes and turning centers from manufactures such as: Absolute, Accuway, Alex-Tech, Angelini, Baruffaldi, Benzinger, Biglia, Boehringer, Boley, Bumotec, Cazeneuve, Cincinnati, Citizen, Clausing, Colchester, Daewoo, Dainichi, Danobat, DMG, Doosan, Doosan Infracore, Duplomatic, Ecoca, Edel, Emag, Emco Maier, Ergomat, Fadel, Fair, Feeler, Femco, Friend, FMS, Focus, Fortune, GF George Fischer, Gildemeister, Gital, Goodway, Graziano, HAAS, HACO, Hardinge, Hembrug, Heyligenstaedt, Hurco, Hwacheon, Hyundai, Index, JinnFa, Johnford, Kasper, Kern, KIA, Kuen Jeng, Lagun, Leadwell, Magdeburger, Maho Graziano, MAS Kovosit, Mazak, Milltronics, Mitsubishi, Monforts, Mori Seiki, Muratec, Nakamura, Niles, Okuma, Oloffson, Realmeca, Saeilo, Sauter, Schaublin, Scherer Feinbau, Schuster, SMS, SOMAB, Spinner, Star, Tajmac-ZPS, Taksan, Traub, VDI Werkzeuge, Victor, Weiler, YMT, Yeong Chin, etc. etc. etc.



More from Construction Equipment and Supplies