Live Roller Conveyor Belt offers OEM replacement.
Press Release Summary: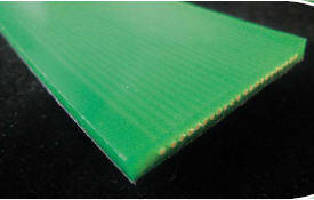 Designed specifically for Dematic live roller conveyors, Habasit TF-100T features optimized frictional characteristics on top cover so rollers turn positively, maximizing throughput. Measuring 0.18 in. thick with Kevlar tension members, belt is pre-cut to 1.77 in. width and has admissible strength of 428 lb-in. TF-100T comes in 328 and 656 ft coils, so that customer can measure, cut, and join belt on conveyor.
---
Original Press Release:

New Belt for Live Roller Conveyors



LaGrange, GA - Bowman Hollis, a broad spectrum supplier to the distribution center market, introduces a new belt specifically for the Dematic (Rapistan) live roller conveyor. This belt, the Habasit TF-100T, has proven to be a superior alternative to the existing belt.

Live roller sortation conveyors run throughout distribution centers, and are critical to the operation - if this conveyor stops, the entire operation stops. The live roller belt actually runs underneath the rollers that actually convey the product. The frictional characteristics of the top cover of the TF-100T have been optimized, so that the rollers turn positively, increasing throughput.

The conveyors are often very long, which puts a heavy tensile load on the belt. The TF-100T has tension members of Kevlar cord, allowing the belt to be used effectively on even the longest conveyors. The belt is pre-cut to the proper 45mm width.
http://bowmanhollis.thomasnet.com/item/flat-power-transmission-belts/flat-power-transmission-belts-2/tf-100t?

The TF-100T is available it coils of 100 meters (328 feet) or 200 meters (656 feet), so that the customer can measure, cut and join the belt on the conveyor quickly and easily. Existing splicing equipment will work, or an entirely new system is available

Until now, customers have been forced to go back to the OEM for this expensive belt. The TF-100T will work on all Dematic systems, and even some other brands of conveyor. In emergencies, it can even be spliced into the present belt material.

Bowman Hollis is an industrial distributor specializing in difficult to source belting of all types. Flat belting is a value-added business, since everything has to be custom sized. With belt fabrication operations and field service in Charlotte, NC and LaGrange, GA, Bowman is positioned to cover belting needs in the Southeast.

Contact Bowman Hollis for a sample and data sheet.