Live Center maintains proper axial pressure on workpiece.
Press Release Summary: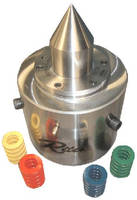 Heavy-duty, spring-loaded live center uses 4 interchangeable, color-coded springs that provide light, medium, heavy, and extra heavy linear force. Self-contained model can be chucked and is suitable for multi-function turning centers with sub-spindles and programmable tailstocks. Tapered and straight shanks and optional carbide tipped center points are also available. Accuracy is ±.00005 in. TIR, with concentricity up to one micron, and spring changes take less than 5 min.
---
Original Press Release:

Versatile Linear Compensating Live Center



Consistent axial pressure on the workpiece is essential for accurate turning. Too large a load may result in part binding and machine shutdown, while too little pressure allows the part to move off center. Axial loads will change due to small variations in stock length and thermal elongation of the part during machining. To combat this problem, Riten Industries has designed a heavy duty spring loaded live center that automatically maintains proper axial pressure on the workpiece. Four easily interchangeable color-coded springs provide light, medium, heavy and extra heavy linear force. The self-contained model (shown) can be chucked, and is especially suitable for multi-function turning centers with sub-spindles and programmable tailstocks. Tapered and straight shanks and optional carbide tipped center points are also available. The compensating center enables the shop to locate a part in a machine according to the stock length specified in the part print. If the part length deviates from the spec, the center still provides sufficient linear pressure for accurate machining without imposing a load on the servo or overloading the ball screw. Other benefits include reduced center inventory and significant reductions in set-up time. The center handles workpieces from a few ounces to thousands of pounds, and a lockable spindle quickly transforms the unit into a dead center. Accuracy is guaranteed to ± .00005" TIR, with concentricity up to one micron. Spring changes take less than five minutes. For further information, contact: Travis Horton, VP Sales & Marketing (800) 338-0027 or t.horton@riten.com or Mitchell Kirby VP Manufacturing (800) 338-0027 or m.kirby@riten.com Riten Industries, Inc. Washington Court House, Ohio (800) 338-0027 www.riten.com

More from Communication Systems & Equipment