Littelfuse, Inc. Introduces the Polyswitch setP Series to Protect Charging Cables from Overheating
Press Release Summary: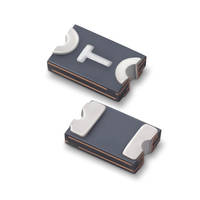 Littelfuse's Polyswitch setP Series is designed to protect cables used for 15W, 60W or 100W operations. The product series features compatibility with conventional assembly and modling operations, no disruption of communication channels and safety for users. The Polyswitch setP Series has applications for USB Type-C connectors and power supplies with attached USB-C cables.
---
Original Press Release:
Littelfuse Introduces setP™ Temperature Indicator for USB Type-C Connectors
CHICAGO, September 26, 2018 — Littelfuse, Inc., today introduced the PolySwitch® setP™ Series Temperature Indicator, which protects the users of USB Type‑C and USB Power Delivery charging cables from dangerous overheating. The announcement was made in the Littelfuse booth (Hall 4, Booth ED45) at Electronica India, the International Trade Fair for Electronic Components, Systems and Applications, held September 26–28, 2018, at the Bangalore International Exhibition Centre (BIEC) in Bengaluru (Bangalore), India. 

When dust, dirt or other debris becomes trapped in a USB Type-C cable connector, it creates a resistive fault from the power line to ground, which can cause a dangerous temperature rise without increasing the current. The power-independent setP senses the temperature increase, alerting the charging port to shut down the power flow. Once the user disconnects the cable and removes the debris, the cable can resume normal operation. The compact 0805 (mils) footprint of the setP Temperature Indicator makes it at least 50 percent smaller than other solutions that require placing a device on the power line. Placing a protective device on the power line also contributes to power loss. The same setP device can be used to protect cables designed for 15W, 60W or 100W operation.

Typical applications for the setP Series Temperature Indicator include:
USB Type-C connectors for charging cables for mobile and wearable devices

Power supply with attached USB-C Cable
"The setP offers the smallest, most energy-efficient solution available on the market, helping to provide protection against overheating," said Todd Phillips, Global Market Manager, Electronics Business Unit at Littelfuse. "USB Type-C can support high power levels, which makes this protection solution especially important." 

The setP Series Temperature Indicator offers these key benefits:
The compact size and sensitivity to temperature helps to simplify keeping the cable surface temperatures safe for users.

The rigid structure is compatible with conventional assembly and molding operations used in cable and connector manufacturing.

Being independent of USB power delivery allows for a smaller footprint and greater energy efficiency and simplifies part selection.

No disruption of the communication channel makes the setP an easy drop-in solution to existing designs.
Availability
The setP Series Temperature Indicator (part number SETP0805-100-SE) is available as a surface mount device in tape and reel packaging in packs of 4,000 with a minimum order quantity of 20,000 pieces. Sample requests may be placed through authorized Littelfuse distributors worldwide. For a listing of Littelfuse distributors, please visit Littelfuse.com. 

For More Information 
Additional information is available on the setP Series Temperature Indicator product page. For technical questions, please contact: Vincent Wu, Global Product Manager, Electronics Business Unit at Littelfuse,VWu2@littelfuse.com. 

About Littelfuse
Founded in 1927, Littelfuse is the global leader in circuit protection with advancing platforms in power control and sensor technologies. The company serves customers in the electronics, automotive and industrial markets with products that include fuses, semiconductors, polymers, ceramics, relays and sensors. Littelfuse has more than 11,000 employees in more than 50 locations worldwide. For more information, please visit Littelfuse.com.
More from Health, Medical, & Dental Supplies and Equipment