Lista International Introduces Hinged Drawer Handle Covers with Lista Script Labeling Software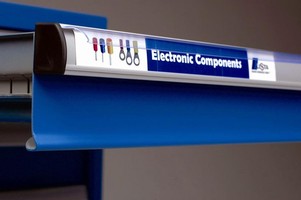 Complete drawer labeling system maximizes organization

Lista International Corporation introduces its new Hinged Drawer Handle Covers, providing complete protection for drawer labels against daily handling, tears, spills, grease and grime. These innovative, clear Hinged Handle Covers resist yellowing while clearly displaying label information. Supplied with all newly-ordered Lista cabinets and Storage Wall® systems, the new hinged handle covers protect bar codes without impeding their easy reading by bar code scanners.

Lista's Hinged Handle Covers are perfectly complemented by free downloadable Lista Script labeling software, making Lista's drawer labeling system even more functional and powerful. This easy-to-use software lets users produce the most informational and attractive labels for their drawers and drawer contents. With Lista Script software, labels can include: SKUs, descriptive copy, bar codes, diagrams, photos, logos, and custom artwork. Lista Script is an ideal label creation solution, not only for drawer handles, but also for internal drawer compartments.

Together, Lista's Hinged Handle Covers and Lista Script software make drawer contents easy to identify, locate and inventory, enhancing organization and productivity.

To find out more about Lista's Hinged Handle Covers and Lista Script labeling software, call or write: Lista International Corporation, 106 Lowland Street, Holliston, MA 01746; TEL 1-800-722-3020; FAX 508-626-0353; EMAIL sales@listaintl.com. Visit Lista's web site at www.listaintl.com.

Related