Lista International Corporation Showcases Flexible Tool Cribs at Westec 2009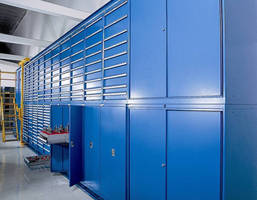 Visit Lista in Booth #2450

Lista International Corporation will showcase its tool cribs incorporating various Lista storage solutions at Westec 2009, March 30-April 2, at the Las Vegas Convention Center, in booth# 2450. Consisting of Lista cabinets (stacked or unstacked) or the company's Storage Wall® system, the tool cribs can become part of an integrated CNC parts storage and transport system to accommodate a wide array of tooling.

Available in a variety of sizes and heights, these tool cribs can be configured to suit the user's available space and items requiring storage. Lista's complete tool storage system allows for the smooth, integrated movement of tooling from crib to machines and back through the use of Lista tool transporters. This unique storage system offers superior organization, inventory control and faster retrieval.

The cribs can also comprise the Lista Storage Wall system, a modular drawer, shelf, and roll-out tray storage system used for the safe, secure and completely organized storage of pre-set CNC and perishable tooling.

These tool cribs are particularly effective when combined with Lista's heavy duty CNC Tool Storage Cabinets and Machine Tool Cabinets, which form the core of the most complete storage system for the modern machining center. Available in a variety of sizes, heights and drawer configurations, these cabinets are equipped with tool holder frames and Lista Tool Holders to accommodate a variety of standard-sized CNC tool holders.

Tool cribs can also include an issue counter made up of Lista counter-height cabinets with a countertop. Creating an organized, professional image, the issue counter is configured with Lista's modular, high-density drawer storage cabinets and shelf cabinets. The issue counter's cabinets provide clean, safe storage for a diverse array of different sized and shaped fast-moving items while allowing easy and fast retrieval.

To find out more about Lista's tool crib solutions, call or write: Lista International Corporation, 106 Lowland Street, Holliston, MA 01746; TEL 1-800-722-3020; FAX 508-626-0353; EMAIL sales@listaintl.com. Visit Lista's web site at www.listaintl.com.

Attn. publishers: Please send all sales leads to Louise Johnson, Director of Operations, Pivot Marketing Data Services, 113 Tiogue Ave., Coventry, RI 02816 USA; Phone: 401-586-6422; Fax: 401-586-6425; Email: listainfo@pivot-mds.com. Thank you.


More from Paints & Coatings