Liquid Vacuum features110 gal drum.
Press Release Summary: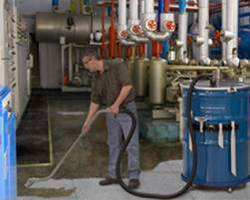 Powered by compressed air, 110-Gallon Reversible Drum Vac(TM) is suited for handling coolant, hydraulic oils, sludge, tramp oil, and wastewater. By turning knob, same stainless steel pump empties drum. Unit does not use electricity and has no moving parts, promoting maintenance-free operation. Model 6396-110 includes 2-way pump, shutoff valve, 10 ft flexible vacuum hose, ABS Spill Recovery Kit, aluminum wand, 11 and 24 in. aluminum crevice tools, skimmer tool, and 20 ft compressed air hose.
---
Original Press Release:

Drum Vacuum for 110 Gallon Drums



EXAIR's new 110-Gallon Reversible Drum Vac(TM) is a powerful liquid vacuum and the ideal way to vacuum coolant, hydraulic oils, spills, sludge, tramp oil and waste water. With the turn of a knob, the same stainless steel pump quickly empties the drum. Coolant sumps can be easily refilled, floor spills vacuumed, or contaminated liquids transferred to filtration tanks in minutes.

Electrically operated "all purpose" vacuums aren't designed for use in industrial environments and, as a result, motors wear out quickly and impellers clog. The compressed air powered Drum Vac does not use electricity and has no moving parts, assuring maintenance free operation. Plus, the Reversible Drum Vac is covered by our 5 Year Built to Last Warranty.

The Model 6396-110 Gallon Premium Drum Vac System includes the two-way pump assembly, shutoff valve, 10' (3m) flexible vacuum hose, 110 gallon drum with bolt ring and lid, drum dolly, ABS Spill Recovery Kit, aluminum wand, 11" and 24" aluminum crevice tools, skimmer tool, tool holder and 20' (6.1m) compressed air hose. Price is $1529.

For more information contact: EXAIR Corporation
11510 Goldcoast Dr.
Cincinnati, OH 45249-1621
Phone: (800) 903-9247
Fax: (513) 671-3363
E-mail: techelp@exair.com
www.exair.com/dv110.htm

More from Explosives, Armaments, and Weaponry