Liquid Suppressant eliminates asphalt odors.
Press Release Summary: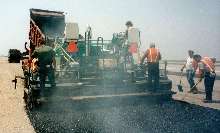 AS Cherry additive eliminates odors emitted during production and paving with asphalt by encapsulating odor-causing molecules in asphalt cement. Product may be added to bulk carriers delivering liquid asphalt cement or at producer level using off-the-shelf metering equipment. Suppressant is effective when mixed in ratio of ½ gal to 6,000 gal of asphalt cement. Product is suited for asphalt production plants, haulers, and paving crews.
---
Original Press Release:
Patented Suppressant Eliminates Asphalt Odors

AS Cherry liquid odor suppressant from Asphalt Solutions, Inc. is a patented additive that eliminates odors emitted during production and paving with asphalt. The product works by encapsulating the odor-causing molecules in asphalt cement, leaving an oderless finished product.

Asphalt production plants, haulers and paving crews have all benefited from improved community relations when using the odor suppressant. AS Cherry has successfully reduced the smell associated with asphalt in a variety of climatic conditions by hot mix producers and refinery terminals. It has also been used with positive results in cold mix and medium cure applications, emulsions, reclaimed recycled fuel, re-refined fuels, and most recently roofing asphalt

AS Cherry can be added to bulk carriers delivering liquid asphalt cement or at the producer level using off-the-shelf metering equipment. It is a highly effective odor suppressant when mixed in a ratio of one-half gallon to 6,000 gallons of asphalt cement and costs as little as three cents per ton of finished mix.

For more information on AS Cherry odor suppressant, test results and sources of supply, contact:

Mr. A. J. Ronyak

President

Asphalt Solutions, Inc.

5134 N. 200th Avenue

Litchfield Park, AZ 85340

Tel: (623) 853-2273

Fax: (623) 853-2272

E-mail: blktop12000@yahoo.com
More from Fluid & Gas Flow Equipment