Liquid Storage Tanks have modular, bolt-together design.
Press Release Summary: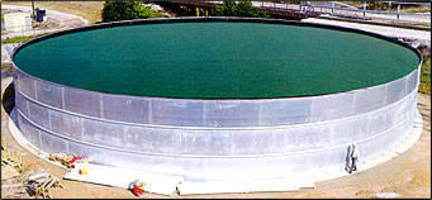 Built to meet liquid containment specifications, ModuStor free-standing and anchored bolted steel round tanks are available in various shapes with diameters from 12-100+ ft and capacities exceeding 1,000,000 gal. Tanks can be erected on any firm surface and require minimal site prep. While leak protection is provided via double liner leak detection systems, floating covers are fabricated from reinforced membrane materials and provide virtually vapor-tight enclosures.
---
Original Press Release:

Field Erected Free Standing or Anchored Tanks



For over 38 years ModuTank has been the leading source for modular tanks in any shape and size or environment. ModuTank s are heavy duty square or rectangular for storage in agricultural and aquaculture applications. Econotanks have similar footprints an dare economical alternatives to costly standard tanks. Tanks are available for above ground storage, hazardous material, sludge, slurry, wastewater and all secondary containment applications. Modular ModuStor bolted steel and Varitank storage tanks for confined sites are some of our leading products. Engineered for honest containment cost for rent or to buy you'll find every style and application available for construction sites, utilities, government agencies and municipalities. Our new expanded catalog is now available with general specifications.

We are pleased to introduce a new product platform to cater to your liquid containment specifications. ModuTank is excited to offer ModuStor a free standing and anchored bolted steel round tank to our customers. Our tanks are available in a diverse array of sizes and shapes, they are available in diameters ranging from 12' to more than 100' with capacities over 1,000,000 gallons. One primary advantage Modutank has over other competitors is our ability to provide not only a durable and superior product but also a fair and accommodating product cost range. Factory fabricated modular steel components, fast bolt-together assembly and minimal site prep helps to combine to reduce overall ModuStor costs far below those for wielded steel counterparts. ModuStor tanks are versatile structures which can be erected on any firm surface such as gravel, compacted earth, concrete, or asphalt. They can be anchored to a 4' wide concrete apron or even installed with unique corrosion resistant steel anchor plates. ModuStor's large selections of liners are readily available and are designed to be chemically compatible with most commonly handled liquids. Our floating covers are specially fabricated from reinforced membrane materials including XR-5 and polypropylene and provide virtually vapor-tight enclosures. ModuStor tanks also offer leak protection with double liner leak detection systems. Our tanks are made accessible by ladders for easy tank access, our ladders are available with or without platforms or cages. ModuTank also provides wall panels that are G-90 mill galvanized steel sheet with options for various thicknesses, ranging from 16ga. to 10ga. All of our girths are hot dip galvanized structural steel angle. Structural hardware is zinc plated steel, grade 5.

Since 1970 thousands of ModuTank Inc. storage tanks and secondary containment systems have been shipped to all fifty states, U.S. territories and numerous countries worldwide. Seven of the top ten Fortune 500 companies, eight of the top ten environmental/remediation companies and seven of the top ten waste management companies as well as government agencies, DOE facilities, utilities, the U.S Army Corps of Engineers, Superfund sites, the U.S. military, airports and municipalities have used ModuTank Inc. products.

Liners and tanks styles: bladder, blowdown, field erected galvanized or steel holding tanks and emergency replacement tanks are also available.

Leading magazines in the field have published articles about ModuTank systems over the years. View them on our website, www.modutank.com. Call 800-245-6964, (718-392-1112 in NY) for more information.

More from Mechanical Power Transmission