Liquid-Solid Separator helps reduce BOD in wastewater.
Press Release Summary: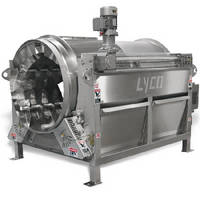 Filling gap between offal screen and Dissolved Air Filtration system, Micro Drum Screen™ uses screens with mesh sizes of 200 microns, enabling operators to recover extra product during initial processing stages of foods ranging from vegetables to proteins such as beef or poultry. Specifically, system reduces Biochemical Oxygen Demand, Total Suspended Solids, and Total Kjeldahl Nitrogen. Depending on processing speed and type of mesh used, recovered material amounts can range from 600–1500 lb/hr.
---
Original Press Release:

Lyco Turns Wastewater Stream Into Revenue Stream



New Micro Drum Screen™ Advanced Liquid/Sold Separator Further Reduces BOD



COLUMBUS, Wis. — Food processors can reap the benefit of hidden assets and potentially avoid hefty fines by improving waste stream recovery with the latest innovation from Lyco Manufacturing. The new Micro Drum Screen™ Advanced Liquid/Solid Separator system reduces industrial waste using screens with mesh sizes two-and-a-half times finer than secondary screening systems (200 microns compared to 500 microns). This equips the operator to recover extra product during initial processing stages for foods ranging from vegetables to proteins such as beef or poultry.  The additional product capture represents significant potential income that processors are currently—literally—washing down the drain.



"The Micro Drum Screen™ fills a definite gap between the offal screen and the DAF (Dissolved Air Filtration) system," says Kevin Hansen, product line manager at Lyco. "There are several ways food processors can improve their return on investment (ROI) with our new drum screen. The first is by recovering prime offal for sale or use as a high-quality nutrient in animal feed products, representing a secondary revenue stream," he continued.



"Secondly our system helps operators reduce the amount of chemicals used in the DAF, saving thousands of dollars. A cleaner wastewater stream also helps reduce municipal chargebacks or fines. These fines can amount to tens of thousands of dollars per month in some cases."



And finally, but no less important is the fact that a cleaner wastewater stream is better for the environment as it protects the nation's waterways. "The benefits of the Micro Drum Screen™ certainly speak to sustainable and green business practices," said Hansen.



Savings by the numbers

Specifically the Micro Drum Screen™ reduces BOD* (Biochemical Oxygen Demand), TSS* (Total Suspended Solids) and TKN* (Total Kjeldahl Nitrogen). Production run tests in a poultry processing facility show results of up to 24.4 percent reduction in BOD, almost 30 percent TSS and 14.79 percent TKN. The amount of BOD in wastewater often has the largest impact on a company's chargebacks or fines imposed by local water municipalities. In addition, processors can realize up to 30 percent savings on sludge removal and handling.



While potential fines from BOD levels vary from one processor and municipality to another, the secondary revenue stream from recovered materials is evident. Depending on the processing speed and type of mesh used in the screen, recovered material amounts can range from 600 to 1500 lbs/hour. What would otherwise be waste or wind up in sludge is captured and available for sale or use, while reducing the organics in the water.



Reducing organics in wastewater cuts back on the amount of chemical needed in a DAF system, where chemical costs can range anywhere from $250,000 to more than a million dollars per year. "Even a 15 percent reduction in the stream being produced is a payback for the food processor," says Hansen.



Minimal maintenance

Lyco designed the Micro Drum Screen™ for low-maintenance operation. A complete screen change out can be done on the same drum takes a few hours and requires just two employees, using standard tools.  In addition, the screens do all the work; there are no bags or parts that have to be changed out.



As an additional maintenance innovation, the Micro Drum Screen actually cleans itself with its own water. Operators can preprogram a cleaning cycle that lasts 5 to 15 minutes as needed, recycling its own water through the CIP system. These features cut machine downtime and cut operator costs. Hundreds of interchangeable screen options create a versatile machine, adaptable to many types of food processing applications requiring wastewater treatment.



*About wastewater acronyms

BOD—Biochemical Oxygen Demand, or a measure of the amount of oxygen required to neutralize organic wastes.

TKN—Total Kjeldahl Nitrogen, or the total concentration of organic nitrogen and ammonia.

TSS—Total suspended solids gives a measure of water turbidity, with TSS values commonly expressed in ppm (mg solids per liter of water).



About Lyco Manufacturing

Lyco Manufacturing, Inc. is a world-leading producer of commercial cooking/cooling, liquid-solid separation, root crop and green bean systems for industrial food processors.  Using its innovative designs, extensive applications experience and process knowledge of the food industry, Lyco focuses on improving customer return on investment. Lyco's passion is developing the best customer-aligned, innovative food processing machinery in the world, using lean manufacturing principles.  Founded in 1980 by owner and Chairman of the Board, David R. Zittel, Lyco Manufacturing is based in a state-of-the-art facility located northeast of Madison, Wis., USA.



For further information contact:

Randall Unterseher

Vice President of Marketing

Lyco Manufacturing, Inc.

115 Commercial Drive

Columbus, Wisconsin, USA 53925

Phone 920-623-4152



[email protected]



www.lycomfg.com