Liquid Silicone Seals exhibit lotus effect (superhydrophobicity).
Press Release Summary: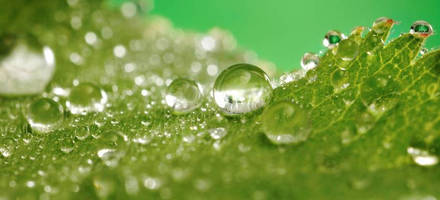 With surface-located protrusions measured in microns and modeled after surface of lotus flower, Liquid Silicone Seals feature structure resistant to water as well as viscous substances. Friction-reducing microstructure of sealing surface can help ease assembly in dry state without need for lubrication, and lightweight construction promotes application versatility. Also, liquid silicone seals possessing lotus effect help eliminate concerns over stick-slip effect.
---
Original Press Release:

Freudenberg-NOK's Liquid Silicone Seals Allow for Variety of Applications



Seals lower friction, ease assembly and reduce weight



PLYMOUTH, Mich. – The lotus effect, also known as superhydrophobicity, is a term that refers to extremely water repellant and self-cleaning properties in leaves and plants. Freudenberg-NOK Sealing Technologies has succeeded in mirroring these characteristics to its seals without changing the sealing material or coating the seal.



The key is in the manufacturing tool, which leaves tiny protrusions on the surface of the seal, invisible to the naked eye, which are measured in microns and modeled after the surface of a lotus flower. This structure resists not only water, but even a more viscous substance like honey simply drips off the seal's velvet-like surface.



This purely geometric modification of the surface has attracted the attention from the food and beverage industry. Liquid silicones are well-suited for the industry and for contact with drinking water, particularly for sterilization solutions.



"For many users, the decisive aspect is the two-fold reduction in the coefficient of friction with the water beading effect," said Michael Klemt, development engineer, Freudenberg Sealing Technologies. "This is important for the installation of the seal. The new friction-reducing microstructure of the sealing surface can help ease assembly in a dry state without a need for lubrication."



Liquid silicone seals possessing the lotus effect even eliminate anxiety over the much-feared stick-slip effect. When a conventional seal is pulled over a housing, the solid bodies rubbing against one another may produce the undesirable effect of sticking and then suddenly slipping. The hesitation makes automated mounting more difficult.



Material expertise is the foundation of Freudenberg-NOK's made-to-order system solutions. The Competence Center Liquid Elastomer Solutions has developed a new fluid silicone for one of its customers with a weight savings of up to 40 percent compared to traditional liquid silicone.



"It is possible to variably adjust its mass density across a wide range, depending on the application," Klemt explained.



The weight savings are a requirement for this particular application because the seal must be capable of floating. At the same time, it must resist deposits and aggressive chemicals long-term. In addition to floating capability, the reduction in weight gives the new material a wider range of applications. Lightweight construction is in great demand for its contribution to efficiency and cost-effectiveness, and it's a top priority in the auto and aerospace industries.



Precision formed parts made of liquid silicone are used to seal switches and plug connectors, as sealing mats for cable ducts or as dust protection caps. Due to its very good electrical insulation characteristics combined with high mechanical durability and UV resistance, liquid silicone is an excellent material for these applications. Products made of the lightweight material are produced with the same forming technology as classic liquid silicones.



"They feature comparable basic characteristics and a comparable sealing effect. There is also great potential for using the new liquid silicone in two- or multi-component parts," Klemt said.



Freudenberg-NOK is an expert in material and process development in liquid silicone molding due to years of industry experience and ongoing research investment. According to Klemt, the company's crucial success factors are its own tool-making and cold channel technology that Freudenberg developed for open-sprue production, ensuring precision with up to several dozen cavities.



Media Contacts:

Kevin Soisson, Communications Specialist

Office: +1 734 354 5328

E-Mail: kevin.soisson@fnst.com



Leslie Dagg / Adriana Van Duyn, Bianchi PR

Office: +1 248 269 1122

E-Mail: ldagg@bianchipr.com / avanduyn@bianchipr.com



About Freudenberg-NOK Sealing Technologies

Freudenberg-NOK Sealing Technologies is the Americas joint venture between Freudenberg and Co. in Germany and NOK Corp. in Japan. Freudenberg-NOK is a leading producer of advanced sealing technologies for a variety of markets including: aerospace; agriculture; appliance; automotive; construction; diesel engine; energy; food and beverage; heavy industry; and pharmaceutical. Founded in 1989 under the legal name Freudenberg-NOK General Partnership, Freudenberg-NOK is headquartered in Plymouth, Mich. and operates more than 20 facilities across the Americas. For additional information, please visit www.fnst.com.

More from Optics & Photonics