Liquid Silicone Rubber offers oil and fuel resistance.
Press Release Summary: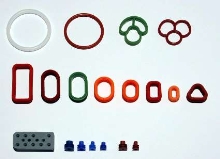 Available as translucent, 2-component silicone rubber, FSL 7586/40 TP3854 incorporates tailored fluorine structures. Self-lubricating ability derives from fluid that exudes from cured rubber over extended period, ranging from a few hours to 1 day. Low temperature flexibility down to -50°C makes elastomer suited for gasketing and sealing applications, such as those found in under-the-hood automotive applications.
---
Original Press Release:

New Liquid Silicone Rubber Grade from GE Advanced Materials Offers Improved Oil and Fuel Resistance, Excellent Processability


WATERFORD, N.Y. - May 27, 2005 - With the commercial launch of FSL 7586/40 TP3854, GE Advanced Materials is introducing a new liquid silicone rubber (LSR) grade that combines improved oil and fuel resistance, self-lubricating performance, and excellent processing properties. This fast-curing silicone elastomer may be used for gasketing and sealing applications, such as those found in under-the-hood automotive applications.

GE's innovative formulation of its new FSL 7586/40 TP3854 grade incorporates tailored fluorine structures that enable it to help deliver processing performance similar to non-fluorinated LSRs, but with greatly enhanced chemical resistance.

The properties of this material may make it suitable for use in applications that require occasional contact with automotive fuels or long-term contact with most automotive oils like connector gaskets and parts in air-intake systems.

"FSL 7586/40 TP3854 LSR offers low compression set and low swelling, helping it to provide excellent long-term sealing," said Heinz Mueller, industry manager Automotive Elastomers, GE Advanced Materials. "Also, its much lower volume swell makes this liquid silicone rubber product a versatile alternative to conventional, non-fluorinated grades."

This new grade can be used in liquid injection-molding processes. The material enables high-performance elastomeric parts with self-lubricating properties. Its ability to self-lubricate derives from a fluid that exudes from the cured rubber over an extended period, ranging from a few hours to one day. The practical effect is that FSL 7586/40 TP3854 offers reduced insertion forces for complicated parts.

Available as a translucent two-component silicone rubber, FSL 7586/40 TP3854 also offers colorability for color-coded parts. Its high temperature stability translates into durable physical properties, potentially allowing extended performance in seals and gaskets. In addition, this new grade offers low temperature flexibility - down to -50 C - ensuring excellent sealing, even at the lower limit of automotive requirements.

About GE Advanced Materials
GE Advanced Materials (geadvancedmaterials.com) is a world leader in providing high-technology material solutions. Headquartered in Pittsfield, Mass., its businesses include Plastics, Silicones, Quartz, Automotive, Specialty Film & Sheet, Polymershapes, and Sealants and Adhesives.

GE (NYSE: GE) is Imagination at Work - a diversified technology, media and financial services company focused on solving some of the world's toughest problems. With products and services ranging from aircraft engines, power generation, water processing and security technology to medical imaging, business and consumer financing, media content and advanced materials, GE serves customers in more than 100 countries and employs more than 300,000 people worldwide. For more information, visit the company's Web site at www.ge.com.

More from Communication Systems & Equipment