Liquid Reservoirs include filter and low level sensor.
Press Release Summary: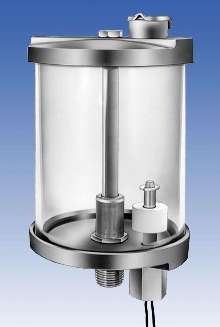 To guard against dangerous low liquid supply, Liquid Reservoirs feature low-level safety switch consisting of float with magnet inside. Filter assembly, attached to tie rod, helps prevent dirt and contamination that may be in liquid from damaging equipment. The 100 mesh filter element can be removed for occasional cleaning. End plates and base are aluminum alloy. Acrylic reservoirs are standard and can be furnished in 1 qt, ½ gal, and 1 gal capacities.
---
Original Press Release:
Liquid Reservoir with Low Level Switch

Oil-Rite Corporation is offering a new liquid reservoir, with filter and low level sensor. This, all-in-one design, is ideal for use by itself or with any of Oil-Rite's numerous valve assemblies, flow sights, or PurgeX® metering pumps.

With its simple, yet rugged construction, this reservoir is suitable for many environments, such as chemical industries, petroleum and mining industries, heavy construction equipment industries, and others.

To guard against dangerous low liquid supply, the units are equipped with a reliable low-level safety switch. This switch consists of a float with a magnet inside. The magnetic reed switch is a single pole, single throw, normally opened switch. The properly located reed switch in a pipe, is closed (or opened) by the magnet in the float, when the float reaches its low-level position. The low-level switch can be used to actuate warning devices or shut off the machine, thus protecting against damage to costly machinery. A sufficient amount of liquid remains in the reservoir, allowing adequate time to refill. Because of the compact design of the switch assembly, reservoirs as small as one quart can be equipped with this feature.

The liquid reservoir also has a filter assembly attached to the tie rod, to help prevent dirt and contaminants that may be in the liquid, from damaging expensive equipment. The 100-mesh filter element can be easily removed for occasional cleaning.

End plates and base are of aluminum alloy. Acrylic reservoirs are standard and can be furnished in 1 quart, 1/2 gallon, and 1 gallon capacities. They are break resistant and transparent, allowing a visual check of the liquid supply at all times and it also affords a visual check on the condition of the liquid. A large self-closing hinge lid is provided for refilling. Buna-N gaskets are used throughout for positive sealing. Other seal materials are available upon request. For higher temperatures, Pyrex reservoirs are available in 1 quart and 1/2 gallon sizes.

The liquid reservoirs are provided with either a pipe thread shank for direct mounting or straight thread shank with jam nut for remote mounting.

This new line of exceptionally high quality reservoirs, with low level sensor and filter, offers vital protection against loss of liquid, and safeguards against down time and costly repairs.

For further information contact:

Carolyn M. Boldt

President

Oil-Rite Corporation

P.O. Box 1207

Manitowoc, WI 54221-1207

Telephone: (920) 682-6173

Fax: (920) 682-7699

Internet: www.oilrite.com

E-mail: sales@oilrite.com
More from Mining, Oil Drilling, Refining Products & Equipment