Liquid NanoTint added to Google's Healthy Materials Program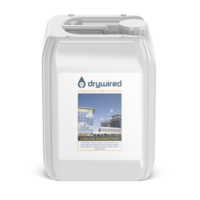 DryWired's Liquid NanoTint has been added to Google's Healthy Materials Program
Google's Healthy Materials Program was created to identify the healthiest products and materials for every Google building around the world.
Portico was developed by the Healthy Building Network team led by Chief Technology Officer Larry Kilroy, in collaboration with Google, to advance healthy materials use, accelerate access to high-quality and comparable data, and seamlessly connect supply with demand. Since 2015, Google has been using Portico to identify the healthiest products for its worldwide buildings, communicate Google priorities and inform product decisions that meets the healthy materials criteria and product scoring based on reliable and transparent manufacturer supplied data.
Liquid NanoTint® is a thermal insulation coating ideal for single-pane glass and polycarbonate surfaces. Applied like a paint, Liquid NanoTint is capable of blocking 100% of Ultraviolet (UV) rays, up to 95% of Infrared (IR) rays and maintaining up to 78% Visible Light Transmittance (VLT). Through the combination of solvent borne metal-oxide nano-particles and an inorganic adhesive binder, Liquid NanoTint forms a 10 micron thick self-leveling clear coat that bonds directly to glass and polycarbonate surfaces.
DryWired
5524 Alcoa Avenue
Vernon, CA 90058
Phone: 323-581-8181
Contact:
Alex Nesic
Email: sales@drywired.com
Contact This Company Download Spec Sheet
More from Paints & Coatings