Level Sensors / Detectors / Transducers
Liquid Level Switches utilize tuning fork technology.
Press Release Summary: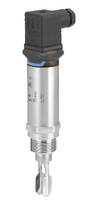 Featuring 316L stainless steel housing, Liquiphant FTL31 works in process temperatures up to 302°F and pressures to 580 psi. Unit is suitable for tanks, vessels, and pipes used in chemical and oil/gas industries. Liquiphant FTL33, featuring stainless steel enclosure with optional IP69K protection, meets food industry requirements with 3-A and EHEDG certificates. Based on vibrating tuning fork technology, both switches are unaffected by foam formation, changing conductivity, or density.
---
Original Press Release:

Endress+Hauser Introduces Liquid Level Switches



Liquiphant FTL31 and FTL33 liquid level switches are based on tuning fork technologies to handle difficult process conditions that defeat other sensors.



Endress+Hauser releases Liquiphant FTL31 and FTL33 liquid level switches based on vibrating tuning fork technology. The sensors are excellent replacements for float switches or conductive, capacitance and optical sensors. The FTL31 is designed for the chemical, oil and gas and other Industries, while the FTL33 is more suited for use in the food and beverage, and pharmaceutical industries. Both sensors also work in areas where those measuring principles are not suitable due to conductivity, build-up, foam, turbulence, flow conditions or air bubbles.



A piezoelectric drive causes the tuning fork of the Liquiphant sensor to vibrate at its resonance frequency. When the tuning fork is immersed in a liquid; its frequency changes due to the change in density of the surrounding medium. The electronics system in the switch monitors the resonance frequency, and indicates whether the tuning fork is vibrating in air or is covered by liquid.



The level switches can be installed in any vertical or horizontal position in a vessel, pipe or tank. Foam formation, changing conductivity or density does not affect their function. Both level switches have an external function test feature and an LED indicator for on-site testing.



The Liquiphant FTL31 is suitable for use in tanks, vessels and pipes. It has a 316L stainless steel housing, works in process temperatures up to 302 ºF and pressures to 580 psi, and is unaffected by changes in ambient temperature. Leading applications include overfill prevention or pump dry-run protection in cleaning and filter systems, as well as in cooling and lubrication vessels.



The Liquiphant FTL33 meets food industry requirements with 3-A and EHEDG certificates. It designed to work in applications where CIP and SIP cleaning takes place, and has a stainless steel enclosure with optional IP69K protection. It can be used in storage tanks, mixing vessels and pipes where internal and external hygiene requirements are particularly stringent.CRN, EN10204-3.1 material certificate, and marine certifications are available.



Both sensors can have either a three-wire DC-PNP output or 2 wire ac/dc output when the liquid level reaches the switching point. Each device has two operating modes:

In maximum safety (MAX) mode, the device keeps the electronic switch closed as long as the liquid level is not touching the fork, as in overfill prevention applications.

In minimum safety (MIN) mode, the device keeps the electronic switch closed as long as the fork is immersed in liquid. This is useful in applications such as dry-run protection for pumps.

By choosing the correct operating mode, a user ensures the device switches in a safety manner even if the power supply is interrupted.



For detailed technical information on the Liquiphant FTL31 and FTL33 liquid level switches, and to purchase them online, please go to www.endressdirect.us/ftl31  and www.endressdirect.us/ftl33.



About Endress+Hauser in the USA

Endress+Hauser is one of the largest instrument manufacturers in the United States' industrial automation industry. Endress+Hauser's USA headquarters is located in Greenwood, Indiana and is one of the Group's largest tailor made production and sales facilities worldwide. Endress+Hauser, a Swissbased company, established a US business in 1970. Since that time, Endress+Hauser has continued to invest in its US operations investing a total of 150 million dollars in the last 5 years. Today, Endress+Hauser employs a total of 1,355 people in the United States, including its external sales and service partners.



Contact: Crystal Hunt

Senior Public Relations Manager

Endress+Hauser

Office: 317-535-1306

Mobile: 317-439-6426

Fax: 317-535-2171

crystal.hunt@us.endress.com

www.us.endress.com

More from Electrical Equipment & Systems