Level Sensors / Detectors / Transducers
Liquid Level Sensors use time domain reflectometry.
Press Release Summary: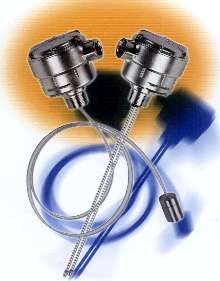 Detector® Micropower Impulse Radar Sensors consist of Series MIR-800 with solid waveguide rods, and Series MIR-900 featuring fully encapsulated, flexible rods. Units measure distance to surface of tank contents and output 4-20 mA signal proportional to liquid level. Sensors pulse microwaves every 2 µsec and capture fresh readings every 310 msec. Resolution and repeatability are 0.01 in. with response time less than 2 sec.
---
Original Press Release:

ALL-NEW Radar Liquid Level Sensing Now Made Affordable from Gems Sensors


PLAINVILLE, CT-Gems Sensors Inc. introduces the all-new Detector® line of Micropower Impulse Radar (MIR) liquid level sensors that promise a new level of affordability for OEMs and process users alike. Gems Detector® MIR sensors, the most affordable radar liquid level sensors ever brought to market, are now available in two series: MIR-800 Series sensors feature solid waveguide rods, while the MIR-900 Series sensors feature fully encapsulated, flexible rods. Each series offers specific advantages. Detector® sensors are effective for measuring any liquid with a dielectric equal or greater than 3.0 and are particularly effective in media that often frustrate other measuring technologies. Foaming liquids, viscous and coating fluids, slurries and other particulated liquid media-all are candidates for the Micropower Impulse Radar technology employed in Detector® sensors.

Detector® sensors use Micropower Impulse Radar (MIR), or Time Domain Reflectometry (TDR), to measure the distance to the surface of the tank contents and output a 4-20 mA signal proportional to liquid level. Detector sensors pulse microwaves every 2 µsec and capture fresh readings every 310 milliseconds. Resolution and repeatability are 0.01" with a response time less than 2 seconds.

MIR-800 sensors feature solid waveguides to reach within <1mm of a tank bottom; especially beneficial when controlling expensive fluids, where undetected inventory beneath common sensors represents costly waste. A deadband of just 1/4-inch is located at the top end just below the mounting. These sensors are stocked and available with rods of 24" or 72" and are trimmed to required length during installation. For OEM customers, Gems supplies finished units sized per specification and ready for
installation.

MIR-900 Series sensors are longer, handling tank depths to 12 feet, and feature a flexible dual rod waveguide that is completely encapsulated with Tefzel®. This low-dielectric material resists buildup and provides a bridge between the rods that facilitates accurate wave reflection, even when they become
coated. Two standard lengths are available, which may be trimmed to size to fit tanks 12 feet deep or less. A stainless steel weight, fitted at the guide's end, maintains guide rigidity. The OEM version is sized and calibrated at the factory and supplied with a fitted RytonS end weight. With zero deadband at the top, MIR-900 sensors are capable of measuring tank contents right up to the bottom of its mounting.

Smarter Products, Better Solutions is how Gems Sensors is shaping the future of fluid sensing. For more than 50 years, the company has been the preferred supplier to thousands of companies serving the OEM, MRO, Process, Environmental, and Marine industries because of its innovative approach to sensor design, applications, and problem solving to meet customer- specific needs. Gems Sensors is a leading global manufacturer of liquid level, flow, and pressure sensors and solid-state relays and barriers.

For more product information, contact Gems Sensors, One Cowles Road, Plainville, Connecticut 06062. Phone: (800) 378-1600.

More from Software