Liquid Level Control suits low level cutoff protection.
Press Release Summary: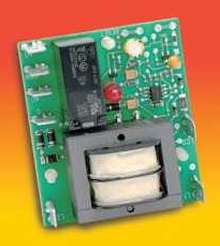 Single probe LLC8 series uses AC current sensing to prevent thermal runaway and excessively high internal pressure in hot water tanks by detecting presence of conductive liquids. With open board design and UL353 recognition, it offers factory fixed time delay of 1-60 sec and is available for input voltages of 24, 120, or 230 Vac, 50/60 Hz. Sense resistance is factory fixed from 5K-250K ohms. SPDT relay contacts are rated 10 A resistive at 120/240 Vac.
---
Original Press Release:
Low Level Cutoff Liquid Level Control LLC8 Series
ABB is pleased to announce a new addition to the SSAC brand of liquid level controls; the LLC8 Series. The LLC8 Series is a low cost single probe liquid level control designed for low liquid level cutoff protection. Low level cutoff protection is normally used in equipment and commercial appliances that produce hot water or steam, like boilers and steamers. Low level cutoff protection helps prevent thermal runaway and excessively high internal pressure in the hot water tank by disconnecting the heating element if the water level is too low. A probe is installed in the hot water tank. As long as the water is in contact with this probe the heating element can operate. The LLC8 uses a very small AC current to sense the presence of the water in the tank. The LLC8 is designed for systems that use conductive liquids, like water. The LLC8 Series' cost effective open board design and UL353 recognition make it perfect for low level cutoff protection in boiler applications. This series offers a factory fixed time delay of 1 to 60 seconds and is available for input voltages of 24, 120, or 230 VAC, 50/60 Hz. The sense resistance is factory fixed from 5K to 250K ohms. The LLC8's SPDT relay contacts are isolated from the operating and probe voltages. Rated 10 amps resistive at 120/240 VAC, they can switch small pumps, valves, or pump contactors. An LED indicator turns on when the relay is energized. The LLC8 is available with manual/automatic reset or a special manual reset with a power outage feature that ignores nuisance power outages. The 24 and 120 V AC units are UL recognized as limit switches under UL353 (230 V AC units are UL508) and CSA certified under Standard 14. These devices are also CE approved. For more information, contact: (888) 385-1221 For more information please contact: Low Voltage Products & Systems ABB SSAC is an ISO 9001 company. Editor: John Meluni (315) 638-1300 Technical Assistance (800) 377-7722 E-mail info@ssac.com Visit the online catalog at www.ssac.com Send leads to: P.O. Box 1000, Baldwinsville, N.Y. 13027