Liquid Crystal Display handles shock and vibration.
Press Release Summary: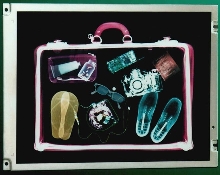 Digital 10.4 in. VGA TFT display, with user-selectable reverse scan and both 3.3 V and 5.0 V input voltage, handles 150 G shocks and 1 G vibration, and operates over temperature range of 0 to 50°C. Backlight CCF lamps have estimated life of 50,000 hr. Display has 260K colors, luminance of 400 nits, 640 x 480 dot pixel display format, contrast ratio of 300:1, and viewing angle of 120°. Applications include test, measurement, diagnostic equipment, and industrial controls.
---
Original Press Release:

New Optrex 10.4 - Inch VGA TFT LCD Offers Expanded Display Features for Test, Measurement, & Diagnostic Applications


Plymouth, MI, August 2002 - Optrex America has introduced a rugged new 10.4-inch diagonal digital TFT LCD module designed for non-PC applications requiring high luminance, high contrast, wide viewing angle and durability. New features include user-selectable reverse scan and both 3.3V & 5.0V input voltage.

The new module (Optrex P/N T-51513D104U-FW-A-AB) offers best-in-class front of screen performance, displaying 260K colors with high color saturation. It has a luminance of 400 nits in a 640 x 480 dot pixel display format, with a contrast ratio of 300:1 and a wide viewing angle of 120°.

It includes a TFT (thin film transistor) LCD panel, driver ICs, control circuit and 2 field-replaceable CCF backlighting lamps. It accepts both 3.3V and 5.0V input voltage, and offers customer-selectable 12 o'clock (normal scan) or 6 o'clock (reverse scan) viewing angles in a single module (it is a mechanical drop-in replacement for two existing Optrex 10.4-inch VGA TFT LCDs - P/N AA104VB04 and P/N AA104VB02).

Designed to perform in rugged, non-PC industrial applications, the T-51513 series 10.4-inch VGA TFT LCD can handle 150-G shock and 1-G vibration levels, and operates reliably over a temperature range of 0°C to 50° C. The two CCF lamps that backlight the LCD have an estimated life of 50,000 hours each.

Applications for which the new 10.4-inch TFT LCD provides a high-performance, cost-effective display include test & measurement and diagnostic equipment, industrial control equipment, kiosks, POS displays, ATMs and amusement/entertainment systems.

Pricing for P/N T-51513D104U-FW-A-AB is $320 in sample quantities. Samples are now available, with mass production scheduled for 4Q02. For additional details, contact Optrex America.

For more information, contact Stacy Orlandi at Optrex America, Inc., 46723 Five Mile Road, Plymouth, MI 48170. Tel: 734-416-8500; Fax: 734-416-8520; Email: lcdinfo@optrexusa.com; Web: www.optrex.com.

Optrex is a world leader in the design and manufacture of OEM liquid crystal displays (LCDs) for an expanding line of products that includes displays for telecommunications and non-PC Internet devices, test, measurement and diagnostic instruments, handheld data management equipment; and automotive and avionics displays. Founded in 1976, Optrex has followed an aggressive policy of growth and expansion and now serves customers through an extensive in-field network of applications engineers and more than 100 sales and distribution offices throughout the world.

The Optrex technology palette includes Active-MLA (multi-line addressing), TFT (thin film transistor), VHC (very high contrast), TN (twisted nematic), STN (super twisted nematic), MTN (modulated twisted nematic), reflective color and super high performance displays for critical applications.


More from Packaging Products & Equipment