Liquid-Cooled ATR Enclosure features modular design.
Press Release Summary: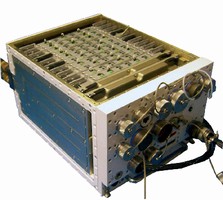 Designed to ARINC 404A, Air Transport Rack Chassis can fit up to 10 6U x 160 mm slots in 1 ATR Short size. Unit accepts conduction-cooled modules in various architectures such as VME/64x, cPCI, and VXS. Independent dual liquid-cooled sidewalls dissipate in excess of 100 W/slot, and can use glycol, kerosene, PAO, and salt water. Powered via 28 Vdc/270 V or optionally 1 and 3-phase 115 Vac at 400 Hz, chassis can take up to 1 kW of input power.
---
Original Press Release:

Elma Announces Modular Liquid-Cooled ATR Enclosure



FREMONT, California, Nov 12, 2007 - Elma Electronic Inc., a global manufacturer of electronic packaging products, has announced a new liquid-cooled ATR (air transport rack) chassis that is modular. The unit can be configured in various sizes and configurations without starting from scratch, which saves time, effort, and money.

The liquid cooled ATR chassis can fit up to ten 6U x 160mm slots in a 1 ATR Short size. Designed to ARINC 404A, the chassis accepts conduction-cooled modules in various architectures such as VME/64x, cPCI, VXS, VPX, and more. The independent dual liquid-cooled sidewalls dissipate in excess of 100 Watts per slot. Various cooling fluids can be used including glycol, kerosene, PAO, salt water, etc. With a proven high-integrity frame construction, the unit is highly ruggedized and meets MIL-STD 810E, 461D and 704E.

With a modular design, the ATR can be designed in various configurations. The chassis can easily be scaled up or down while using the same liquid-cooled sidewalls (i.e., the walls for a 1 ATR are the same as the ones for a 1/2 ATR). To reduce costs, the liquid cooling can be optionally limited to one sidewall. Various plug-in power supply modules and front I/O configurations are possible in this design. Elma also offers a wide selection of backplanes in various architectures and has different milled card cage sizes off-the-shelf.

The unit is power via 28V DC/270V or optionally 1 and 3-phase 115VAC @ 400Hz. The liquid-cooled chassis can take up to 1 KW of input power. Custom I/O solutions are optional including MIL-STD wiring and connectors. Elma also offers ATR chassis in several sizes for convection (forced air), conduction, and hybrid cooled applications.

The lead-time is 6-8 weeks.

About Elma Electronic
Elma Electronic Inc. is a leading manufacturer and supplier of enclosures, backplanes, cabinets, cases, and "ready-to-run" packaging for CPCI, Rugged COTS, VME/64x, VXI, PC and custom bus structures. Elma's component product line offers a wide selection of top quality switches knobs and LED arrays. The company has been a worldwide supplier of dependable, high performance products for over 35 years. Elma operates three facilities in the continental United States plus has locations in Switzerland, Germany, France, the United Kingdom and Israel.

Elma Electronic Inc. is located at 44350 Grimmer Blvd., Fremont, CA 94538 USA. Telephone (510) 656-3400 - Fax (510) 656-3783. www.elma.com

More from Electronic Components & Devices