Liquid Blowing Agents provide controlled foaming action.
Press Release Summary: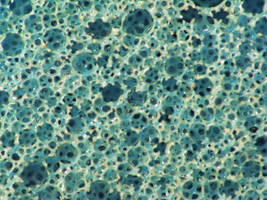 With 0.5%–1.5% letdown ratios, +Foam™ Blowing Agents improves dispersion and controlled foaming action for diverse resins: polyolefins, polystyrene, ABS, PPO, and other polymers. Chemical blowing agent (CBA) formulations available in +Foam™ series of liquid additives include standard exothermic azodicarbonamide CBA, endothermic CBA, and combination thereof. These can be metered into process with precision and disperse uniformly in melt to achieve target level of density reduction.
---
Original Press Release:

Liquid Blowing Agents Save on Additive Costs, Disperse More Uniformly, and Provide More Controlled Foaming Action



+Foam™ Blowing Agents from Riverdale Global Are Used at Lower Loadings than Pellet Masterbatch and Are Less Likely to Cause Premature Foaming



ASTON, PA, U.S.A.: A new series of liquid blowing agents for use with a wide range of resins provides improved dispersion and more controlled foaming action than pellet masterbatches while being used at lower addition levels, it was announced today by Riverdale Global. The company will introduce the additives at K 2016 (Hall 10, Stand A 26).



The chemical blowing agent (CBA) formulations available in the new +Foam™ series of liquid additives include the standard exothermic azodicarbonamide CBA, an endothermic CBA, and a combination of the two. All are used at 0.5 to 1.5% letdown ratios, which are lower than levels typically required for pellet masterbatch. Among the resins with which they can be used are polyolefins, polystyrene, ABS, PPO, and other polymers.



"Because +Foam liquid blowing agents avoid the heat history required for manufacturing pellet masterbatches and are more gently mixed into the base resin, pre-decomposition of the CBA is less of a concern," said Charles B. Irish, vice president of product development. "For users of +Foam products based on an endothermic CBA, there is the added benefit of shorter cycle times, since the CBA adds less heat to the process."



Because liquid additives can be metered into the process with precision and disperse more uniformly in the melt than masterbatch, processors are better able to achieve the target level of density reduction, noted Mr. Irish. "Use of Riverdale Global's gravimetric metering system provides an additional level of precision, allowing for controlled conditions over the entire production run."



By reducing the density of a molded or extruded product, blowing agents make possible savings on raw material, contribute to light-weighting in transportation applications, and help processors to meet sustainability goals. Added at lower levels, blowing agents can also be used to prevent sink marks and warpage.



The new additives are available in pails or drums, in custom blends with liquid colors, or as one of the GlobalPlus™ range of liquid additives. In the GlobalPlus system, each additive is supplied in a drum with a built-in pump that stay sealed throughout shipping, handling, and processing.



RIVERDALE GLOBAL is a leading international supplier of sealed liquid colorants and additives to the plastics industry whose products are used in consumer and commercial markets. The company's world headquarters is in Aston, Pennsylvania, U.S.A., with international offices based in the United Kingdom, Dubai, Singapore, and China. The Riverdale legacy dates back to the early 1900s as a supplier of dyes and industrial chemicals with a focus today on process automation, sustainability and local service.



Email: contactus@riverdaleglobal.com. Visit www.riverdaleglobal.com.



Robert J. Martino

Martino Communications Inc.

8 Main Street / P.O. Box 379

Hastings-on-Hudson, NY 10706 U.S.A.

Tel: 1-914-478-0754

Email: bob@martinocommunications.com

www.martinocommunications.com

www.twitter.com/MartinoComms