Linx 8900 Plus Series Color Contrast Inkjet Coder offers throw distance of 20mm.
Press Release Summary: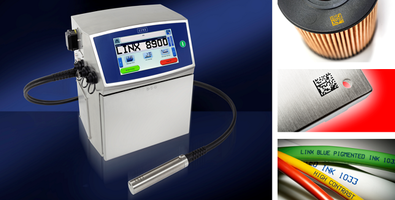 Linx 8900 Plus Series Color Contrast Inkjet Coder features stainless steel print head design and pigment particle dispersion. Unit uses integrated auto-flush technology which allows user to keep print heads clean. Product offers print speeds of 1,600 feet per minute for a single line seven-digit print message. Linx 8900 supports data matrix and QR codes and comes with ink colors such as yellow, blue and black. Inkjet coder provides tall print message style with a throw distance up to 45 mm.
---
Original Press Release:
Color Contrast Inkjet Coder Runs Cleaner for Longer
Linx 8900 Plus continuous inkjet lineup overcomes longstanding soft pigmented inkjet challenges
Diagraph is pleased to announce the launch of the Linx 8900 Plus Series – an advanced range of color contrasting inkjet technology that provides the highest levels of printer reliability and ease of use. Enhancements in printhead design and pigment particle dispersion in the Linx 8900 Series prevent common clogging issues associated with inkjet systems when using color soft pigment-based inks.
Providing up to 6 weeks between printhead cleanings and up to 6,000 hours or 12 months between preventive maintenance intervals, the Linx 8900 Plus Series printers are among the most robust soft pigmented inkjet printers in the industry. The printers feature fully sealed, stainless steel printheads with integrated auto-flush technology that keep the printheads running cleaner for longer and print quality consistently high. Preventive maintenance work on the printer can be accomplished using unskilled labor, involving the change of a self-service module and filter guided by instructions displayed directly on the printer screen.
The Linx 8900 Plus Series keeps pigment particles dispersed in the ink system using several printer functions that provide constant, gentle agitation. The printers feature an enhanced mix cycle that is triggered at jet start up and can self-adjust for idle periods and extended shutdowns. This approach to particle dispersion eliminates the use of mechanical stirrers and the need to keep the printer left powered on – minimizing the number of wearable parts and the cost of operating the printer.
Achieving print speeds of more than 1,600 feet per minute for a single line, seven-digit print message, the Linx 8900 Plus Series printers offer the fastest speeds in the industry for the most common print message requirements. In addition to industry-leading print speeds, the Plus Series can accommodate a wide range of print formats including data matrix and QR codes printed up to 20mm high, with a considerable throw distance of 20mm and up to 45mm when requiring a "tall" print message style. Ink colors available with the printer include yellow, blue and black.
### About Diagraph, An ITW Company
Diagraph, An ITW Company is a leading manufacturer and distributor of marking, coding and labeling systems and supplies, and has been in the product identification industry for over 120 years. Diagraph's products include all-electric printer applicator labeling systems, LINX continuous ink jet and laser coders, large character ink jet printing systems and thermal transfer overprinting systems. For more information, call 800-722-1125, send emails to info@diagraph.com or visit diagraph.com.
About Linx Printing Technologies Ltd
Linx Printing Technologies is a leading global supplier of continuous ink jet (CIJ) printers, case coders, laser coders, thermal transfer printers and thermal inkjet printers. Its printers and coders are used across many different industries where product identification codes, batch numbers, dates and barcodes are required.
All Linx products are designed with low cost of ownership in mind and are distinguished by reliability, robustness and ease of use. Linx products code and mark millions of items every day, ranging from bottles, packages and cans of consumer goods to pharmaceutical products, cabling, electrical components and car parts.
For more information on Linx's products and services, visit www.linxglobal.com.
Related