Link Load Cells offer load ratings from 1-500 tonne.
Press Release Summary: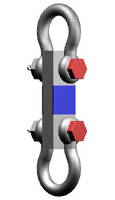 Manufactured from high tensile aluminum, Series SILL and RILL have steel bushed shackle holes to ensure they are hardwearing. Self Indicating Link Load Cell features integral display, and applied weight or force can be shown in t, kg, lb, or kN, as selected by user. Built-in alarm will also warn operator when applied level is met. Using license-free 2.4 GHz radio, RILL link load cells are supplied with battery-powered handheld indicator that displays load in tonne.
---
Original Press Release:

New Intermediate Capacities Now Available for LCM Systems' Link Load Cells



By popular demand LCM Systems is offering intermediate capacities of its popular RILL and SILL Link Load cells. These new link load cells may offer a more economic solution for customers in particular applications and, importantly, these new capacities now fall in line with the ratings of industry standard shackle sizes and ratings. The series has also been extended to include load ratings from 1 tonne up to 500 tonne.



Manufactured from high tensile aluminium, both the SILL and RILL are lightweight, while the shackle holes are steel bushed to ensure they are rugged and hardwearing. Both product ranges are easy to install and can be matched to standard shackle sizes. The Self Indicating Link Load Cell has an integral display and the applied weight or force can be shown in t, kg, lb or kN, as selected by the user. A built-in alarm will also warn the operator when an applied level is met. The RILL link load cells use a license free 2.4Ghz radio and are supplied with a battery powered handheld indicator that displays the load in tonne. They can be supplied as a simple Link or LCM's technical engineers can integrate them into more powerful radio systems.



Full details are now available for free download on LCM Systems' website at www.lcmsystems.com/link_load_cells



Enquiries: Steve Sargeant. LCM Systems Ltd. Unit 15, Newport Business Park, Barry Way, Newport, Isle of Wight. PO30 5GY. Tel: +44 (0)1983 249264   E-mail: steve@lcmsystems.com   www.lcmsystems.com

Twitter: http://www.twitter.com/lcmsystems