Linear Stepper Stages feature 1 micron resolution.
Press Release Summary: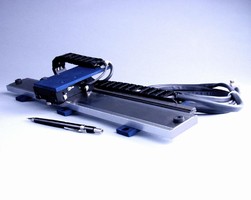 Capable of speeds to 118 ips and acceleration up to 5 G's, closed loop linear steppers with integral linear encoder feature repeatability to .0004 in./ft and accuracy to .001 in./ft. Stages are available in travel lengths to 144 in. and forces of 6, 10, and 20 lb. Cable carrier ensures cables protection and provides cycle 100,000,000 plus cycle counts.
---
Original Press Release:

New! High Speed Closed Loop Linear Stepper Stages Feature 1 Micron Resolution!



October 3, 2006

Valencia, CA - A new series of closed loop linear steppers is now available from H2W Technologies. These low cost linear stepper motor stages with an integral linear encoder features high resolution to .00004 in. (1micron), repeatability to .0004 in/ft (.033mm/m), and accuracy to .001 in/ft. (.0833 mm/m). Capable of speeds to 118 in/sec (3 m/s) and acceleration up to 5 G's the linear stepper stages are ideal for: assembly, sampling, and inspection operations, robotics, pick-and-place, testing, medical lab, and optical applications.

This new series of linear stepper stages is available in travel lengths to 144 inches (3.6 m) and forces of 6lbs. (27 N), 10 Lbs. (45 N), and 20 lbs. (89 N). When installed as a system which includes a motion control package from H2W Technologies the performance is equal to a 2-phase, zero backlash, brushless motor in speed, acceleration, and smoothness.

A cable carrier insures that cables are protected and will provide the highest possible cycle counts (100,000,000 plus cycles). Provisions have also been made for the user's cables to routed in the cable carrier. Custom mounting holes in the moving table are available at no additional charge. A switch for "Home Position" and optional end-of-travel limits can be specified. This high performance package is low cost ant has very short lead times.

H2W Technologies, Inc. is dedicated to the design and manufacture of linear and rotary motion products that are used in the motion control industry. The complete line of linear electric motors includes: Single and dual axis linear steppers, DC brush and brushless linear motors, voice coil actuators, and AC induction motors. Also offered is a complete line of ball screw, lead screw and belt driven positioning stages.

Other motion control products include: 3-phase brushless rotary servo motors with matching digital servo amplifiers and permanent magnet linear brakes for fail-safe, zero power braking for baggage handling and people moving applications as well as amusement park rides.

With over 75 years combined experience in the linear and rotary motion field, the H2W Technologies team of engineers offers the optimal solution to the most demanding motion control, requirements.

For additional information contact
Mark Wilson at H2W Technologies,
28310-C Avenue Crocker, Valencia, CA 91355;
Tel: 888-702-0540,
Fax: 661-702-9348,
E-Mail: [email protected]

or visit the Website at www.h2wtech.com