Linear Slide Option protects drives from damage.
Press Release Summary: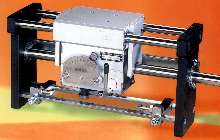 Linear Drive Assemblies use Linear Slides to remove twisting and bending forces from drive unit, guide rails, and supports. By lifting payload weight off drive unit, linear slide attachments assure that bearing assembly is not under undue pressure. Models SLS and L2 mount to top of drive head and handle medium- and heavy-duty loads, respectively. When vertical space above drive head is limited, rear-mounted Model L4 slide may be used.
---
Original Press Release:
Linear Slide Option Protects Drive System from Damage Due to Heavy or Off-Center Loads

Aston, PA, June 2003 - To enhance the performance and longevity of Amacoil/Uhing linear drive assemblies, an optional line of linear slide load carriers has been introduced. The slides remove twisting and bending forces from the drive unit, and from the guide rails and supports. This minimizes the chance of damage to the drive system which could result from forces created by excessively heavy or off-center loads. Additionally, by lifting the payload weight off the drive unit, the linear slide attachment assures that the bearing assembly is not under undue pressure.

Amacoil linear drive assemblies are used in machinery performing operations such as cutting, slicing, winding, spraying, moving printer heads and other positioning and reciprocating motion applications. Three different linear slide styles are available - two top-mounted models, and one rear-mounted model - in a range of sizes to accommodate different types and weights of payloads. The rear-mounted model is for situations where vertical space above the drive unit is limited. Amacoil/Uhing linear slides are linked to the drive units via special flexible couplings which assure the linear slide and payload do not impair proper functioning of the drive unit. The slide assemblies are custom built to meet application requirements, and are also available
separately.

Amacoil Models SLS and L2 linear slides mount to the top of the drive head and are designed for medium and heavy duty loads respectively. When vertical space above the drive head is limited, the Model L4 slide may be used which mounts to the back of the drive unit. The top edge of the L4 slide extends above the drive unit by only 1.0 mm, thereby minimizing the increase in the vertical height of the assembly.

Amacoil designs and builds linear drive systems for positioning and reciprocating motion applications. Amacoil/Uhing rolling ring drive assemblies provide up to 800 lbs. of axial thrust. Depending on the size of the drive, travel speed may be up to 13 ft./sec. at constant RPMs, over distances of up 16 feet (max.). Selectable features include automatic reversal, variable pitch, load carriers, shaft clamps to hold spools secure, delayed reversal, "dwell" capability, and more.

For more information please contact Amacoil, Inc., 2100 Bridgewater Road, Aston, PA 19014. Tel: 610-485-8300. Fax: 610-485-2357. email: amacoil@amacoil.com Web: www.amacoil.com
More from Controls & Controllers