Linear Slide features integrated actuator/electronic drive.
Press Release Summary: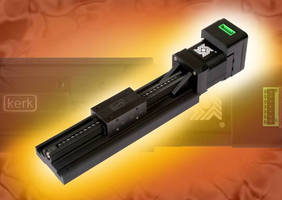 Kerk RGS® linear slide assembly features size 17 single or double stack Haydon(TM) MotoDrive(TM) PDE Actuator, programmable for microstepping from full step mode to 64 microsteps per full step and offering 200-12,800 steps/revolution. Device includes wear-compensating, antibacklash driven carriage to maximize positioning accuracy. All moving surfaces include Kerkite® high-performance polymers that run on Kerkote® or Black Ice(TM) TFE coatings.
---
Original Press Release:

Haydonkerk Motion SOLUTIONS(TM) Introduces the Kerk RGS® Linear Slide Combined with the HAYDON(TM) MOTODRIVE(TM)



Available with an integrated size 17 single or double stack linear actuator

HaydonKerk Motion Solutions(TM), a premier manufacturer of linear motion products, offers the Kerk RGS® linear slide assembly combined with the Haydon(TM) MotoDrive(TM) PDE Actuator. The integrated linear slide, stepper motor, and electronic drive assembly combines both Kerk and Haydon technology in a single unit.

The Kerk RGS linear slide features a standard wear-compensating, anti-backlash driven carriage to ensure repeatable and accurate positioning. All moving surfaces include Kerkite® high performance polymers running on either Kerkote® or Black Ice(TM) TFE coatings, providing a strong, stable platform for a variety of linear motion applications.

The Haydon MotoDrive is an integrated linear actuator and electronic drive designed to operate with optically isolated inputs of pulse, direction and enable signals. The MotoDrive is programmable for micro-stepping ranging from full step mode to 64 micro steps per full step. Step resolution ranges from 200 full steps per revolution to 12,800 steps per revolution when micro-stepping. With a supply voltage of 12 to 42 vdc, the MotoDrive Actuator functions with a run current programmable at HaydonKerk up to 2.6 Arms per phase. The drive direction is enabled with logic level voltage, and is activated using +5 vdc. When operated at ground potential, the drive executes a retract move of the actuator.

By combining components into a complete optimized assembly, HaydonKerk is able to reduce risk, increase safety, and improve integration for the OEM or end user resulting in a lower overall system cost. To find out more, contact HaydonKerk Motion Solutions at info@HaydonKerk.com.

About HaydonKerk Motion Solutions

HaydonKerk Motion Solutions is the joining of two world class brands in the field of linear motion; Haydon(TM) and Kerk®. Together, the company now offers a broad range of precision linear motion products. Recognized as a leading manufacturer of stepper motor based linear actuators, rotary motors, lead screw assemblies, and linear rail and guide systems used in niche market applications, HaydonKerk Motion Solutions offers high performance with its range of reliable, precise designs. HaydonKerk Motion Solutions has developed industry-renowned brands built upon its technical innovation, versatility, customization, product durability, and dedicated customer service. For more information, please visit our website at www.HaydonKerk.com.

More from Software