Linear Potentiometer features ball rod ends.
Press Release Summary: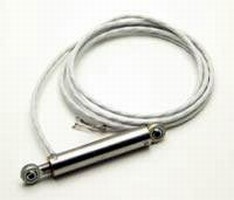 Suited for aerospace applications, 0.500 in. dia, 2.500 in. long linear potentiometer provides rotational life of 10 million cycles with output smoothness of 0.1% maximum. Device features electrical stroke length of 1.50 in. and independent linearity of +1%, as well as infinite resolution. With passivated SS housing and co-molded conductive plastic element, they include lead wires of 24 AWG that are 60.0 in. long.
---
Original Press Release:

New 0.500" Diameter Linear Potentiometer Features Ball Rod Ends



Grass Valley, CA - December 15, 2006 - Spectrum Sensors and Controls introduces a new linear potentiometer only 0.500" in diameter and 2.500" long with ball rod ends. This new potentiometer serves many aerospace applications including as an aircraft actuator sensor. This linear potentiometer provides a long rotational life of 10 million cycles with an excellent output smoothness of 0.1% maximum.

Spectrum's linear potentiometer has an electrical stroke of 1.50" in length and an independent linearity of + 1% with a passivated stainless steel housing. These potentiometers have infinite resolution and lead wires of 24 AWG that are 60.0" in length.

Spectrum's linear & rotary potentiometers utilize a co-molded conductive plastic element for a hard smooth surface and greater long term reliability compared to raised circuit element potentiometers. In Spectrum's process the termination and resistance materials are simultaneously molded with the base substrate.

Spectrum Sensors & Controls new 0.500" x 2.500" long linear potentiometer is priced at $125 and up depending on quantities and configurations.

About Spectrum Control
Spectrum Control, an ISO 9001 and QS 9000 certified company, designs, manufactures and markets a broad line of EMI/RFI filters and power components, power management systems, microwave components, and position sensors and controls.

Spectrum Sensors & Controls Precision Positioning Sensors Operation manufactures a variety of precision co-molded conductive plastic potentiometers and position sensors, as well as element segments and cable assemblies. Designs for these potentiometers and position sensors include rotary, motorized, hollow shaft, linear and fader types, as well as custom assemblies. The company's Advanced Thermal Products Operation produces temperature sensing probes an d assemblies, PTC and NTC thermistors and resistive temperature detectors (RTDs).

The Spectrum Control EMI Filters and Components Group produces discrete surface mount EMI filters, resin sealed and hermetically sealed EMI filters, EMI filtered arrays, EMI filtered connectors, ESD/EFT protected connectors, filtered data-com connectors, gaskets and shielding, patch antenna elements, single line filters, filtered terminal blocks, power entry modules, power line filters, military/aerospace multi-section filters, and commercial custom assemblies.

The Power Management Systems Group produces AC and DC power distribution and remote manageme nt systems. Products include off-the-shelf SMART start products as well as customized products or systems designed to suit specific user requirements. DC power circuit breaker panels, power outlet strips and data acquisition modules are also offered.

Spectrum Microwave is a wholly owned subsidiary of Spectrum Control, Inc. and produces a wide range of microwave components and systems. Integrated Microwave Systems include switchable filter banks, low noise amplifiers, local oscillator multipliers, microwave synthesizers, digitally tuned oscillators and integrated assemblies. Microwave Filters include bandpass filters and duplexers, lumped element filters, cavity filters, waveguide filters, tubular filters, base station products and resonators. Frequency Control Components include a wide range of amplifie rs, mixers, voltage controlled oscillators (VCOs) and dielectric resonator oscillators (DROs).

For further product information, contact, Steve Johnson, Spectrum Sensors & Controls, Inc., 424 Crown Point Circle, Grass Valley, CA 95945, Phone: 530-273-4608 Fax: 530-273-0769, Email: johnson@specsensors.com, Website: www.specsensors.com


More from Agricultural & Farming Products