Linear Positioning Stages feature 0.1 micron resolution.
Press Release Summary: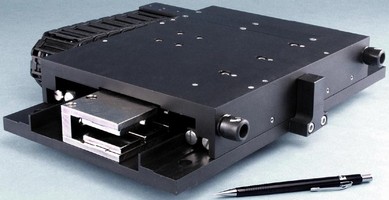 Mounted on any flat surface, XR(TM) crossed roller bearing, brushless linear servo motor stages offer smooth motion suitable for base or X axis in stacked multi-stage (X-Y) applications. Load capacity is 200 lb, velocity is 100 in./sec with acceleration up to 9 G. Construction also includes choice of iron core, non-cogging linear motor with sinusoidal/trapezoidal commutation or ironless core, 3-phase brushless linear motor.
---
Original Press Release:

New! Crossed Roller, Linear Servo Motor Stage Features 0.1 Micron Resolution



Valencia, CA - The XR(TM) Positioning Stages are a new series of very stable linear motor stages are now available from H2W Technologies. These wide footprint, crossed roller bearing, brushless linear motor stages have large load capabilities (200 lbs/90 Kg), high resolution (0.000003937 in./0.1 micron), high velocity 100 In/sec./2.5 m/sec), and high acceleration (9 G's). The large footprint can be mounted on any flat surface. The large, low profile stage with it's smooth motion, makes the XR Positioning Stages ideal for use as the base or "X" axis in stacked multi-stage (X-Y) applications and for: Inspection, pick-and-place, robotics, part transfer, testing, semiconductor manufacturing, and clean room applications.

The XR Positioning Stages are supplied with an iron core, non-cogging linear motor with sinusoidal or trapezoidal commutation, or an ironless core 3-phase brushless linear motor for higher acceleration. Available options include: Matching servo amplifiers and controllers, a high resolution glass scale encoder (a metallic optical scale encoder with A and B square wave signals is standard, however sinusoidal output is available), folded way covers (bellows), custom mounting holes (base and stage), and a large easy access cable carrier to accommodate additional cables and hoses. These high performance stages are low cost and have very short lead times.

H2W Technologies, Inc. is dedicated to the design and manufacture of linear and rotary motion products that are used in the motion control industry. The complete line of linear electric motors includes: Single and dual axis linear steppers, DC brush and brushless linear motors, limited angle torque motors, voice coil actuators, and AC induction motors. Also offered is a complete line of ball screw, lead screw and belt driven positioning stages. Other motion control products include: Matching digital servo amplifiers and permanent magnet linear brakes for fail-safe, zero power braking.

With over 75 years combined experience in the linear and rotary motion field, the H2W Technologies team of engineers offers the optimal solution to the most demanding motion control, requirements.

For additional information contact Mark Wilson at H2W Technologies, 28310-C Avenue Crocker, Valencia, CA 91355; Tel: 888-702-0540, Fax: 661-702-9348, E-Mail: info@h2wtech.com or visit the Website at www.h2wtech.com

More from Communication Systems & Equipment