Position Sensors / Detectors / Transducers
Linear Position Transducers offer minimal replacement downtime.
Press Release Summary: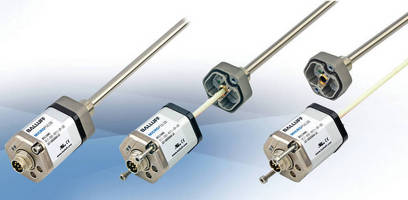 Micropulse® Generation 7 transducers are offered with Rapid Replacement Module (RRM) option that allows field replacement without removing pressure tube from hydraulic cylinder. With this option, transducer electronics and sensing element can be replaced as single unit while hydraulic seal remains intact. There is no danger of oil spillage during replacement, and there is no need for environmental containment procedures. Also, there is no danger of dirt/wood debris entering hydraulic port.
---
Original Press Release:

Balluff Micropulse® Generation 7 Linear Position Transducers are Now Available with a Rapid Replacement Module Option



New field-replaceable electronics module cuts downtime and allows quick electronics replacement without removing the probe from the hydraulic cylinder

Florence, KY: Balluff's popular Micropulse® Generation 7 linear position transducers are now available with a Rapid Replacement Module (RRM) option. This RRM option allows quick field replacement without removing the pressure tube from the hydraulic cylinder, making field-level maintenance fast and easy. With the RRM option, the transducer electronics and sensing element can be replaced as a single unit, while the hydraulic seal remains intact.

With Balluff RRM modules, the pressure tube stays put. That means that during the replacement process there is no danger of oil spillage and no need for environmental containment procedures. There is also no need to bleed air from the hydraulic system and no danger of dirt or wood debris entering the open hydraulic port. Finally, there is no danger of repair personnel getting burned by hot oil.

Rapid Replacement Module Benefits:

No hydraulic oil spillage, and no need for environmental containment

No danger of hot oil spillage

No need to bleed air from the hydraulic system after replacement

No danger of hydraulic system contamination

100% exchange of sensor package eliminates troubleshooting guesswork

Dimensionally identical to standard Balluff rod-style transducers

Replacement cartridges can be installed into existing standard pressure tubes

Available for all BTL7 output and connector types

Balluff Micropulse® Generation 7 linear position transducers provide highly accurate and reliable position control signals. Balluff's non-contact magnetostrictive technology means performance does not degrade over time, as with linear potentiometers. Micropulse® transducers are very popular in the lumber industry, plastic injection and blow molding, tire and rubber manufacturing, stamping presses, die casting, and all types of automated machinery where a continuous, absolute position signal is required.

For more information on Balluff Micropulse transducers, visit: http://www.balluff.com/micropulse

About Balluff:

Balluff Inc., the U.S. subsidiary of Balluff GmbH, Neuhausen, Germany, is a leading manufacturer of a wide range of inductive, photoelectric, vision, capacitive and magnetic sensors as well as linear position transducers, RFID systems, and networking products. Balluff products for OEM and factory floor solutions are used to control, regulate, automate, assemble, position, and monitor manufacturing, assembly, and packaging sequences for industries including: metalworking, automotive, plastics, material handling, wood processing, aerospace, alternative energy, medical, electrical, and electronics.

Direct reader service inquiries to: Kelly Panko, Balluff Inc, 8125 Holton Drive, Florence, KY, 41042 Phone 1-800-543-8390.

In Canada only, contact Norman J. Clarke, President, Balluff Canada, 2840 Argentia Road, Unit # 2, Mississauga, ON L5N 8G4, Phone 1-800-927-9654 or Tel: 905-816-1494, 905-816-1411, E-mail: balluff.canada@balluff.ca

More from Sensors, Monitors & Transducers