Position Sensors / Detectors / Transducers
Linear Position Sensors are suited for plastics industry.
Press Release Summary: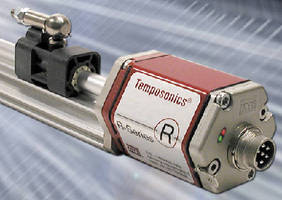 Magnetostrictive Temposonics® linear-position sensors of R-/G-/E-Series are offered with 10 kHz update rate option, available for SSI and EtherCAT® protocols, that allows updated measurements every 100 µsec. They can generate up to 20 simultaneous position outputs along given sensing element. While E-Series suits less-demanding applications, G-Series is more rugged. R-Series offers linearity down to ±20 microns or better, resolution of 1 micron, and repeatability within 0.001%.
---
Original Press Release:

MTS Sensors' Faster Update Rate Enhances Performance in Plastics Industry



10 kHz update rate option provides updated measurement every 100 microseconds...

CARY, N.C. (June 22, 2009) - MTS Systems Corp., Sensors Division's magnetostrictive Temposonics® linear-position sensors are now available with a faster update rate option that allows for updated measurements every 100 microseconds, providing even greater accuracy for demanding industrial applications such as injection molding machines, extruders and thermoforming machines. The fast update rate option, available for SSI and EtherCAT® protocols, fulfills high, dynamic requirements by shortening the cycle time for a measured value so the controller can read the absolute position values with an update frequency of up to 10 kHz (independent of measuring length) synchronized with an external control clock to provide 26-bit absolute position data every 100 microseconds.

"MTS' proprietary synchronization technology guarantees the most accurate position output while minimizing inherent system related delays to produce smooth, precise control," said Matt Hankinson, MTS Sensors Division Marketing Manager. "Position measuring systems determine accuracy and performance of today's plastics processing equipment and the performance of Temposonics sensors can greatly increase productivity and reduce costs."

Another benefit of implementing magnetostrictive Temposonics linear-position sensors in plastics applications results from the multiple magnet capability. MTS linearposition sensors can generate up to 20 simultaneous position outputs along a given sensing element, making them a cost-effective replacement for the traditional array of proximity sensors once used in most injection molding applications. The inherent capability of Temposonics technology to provide multiple-position feedback along the same plane of motion make these sensors ideal for this machinery, in addition to many other applications.

Typically there are four critical parameters for measurement on an injection molding machine; the clamping unit, the ejection unit, the injector itself and the tie bar.

Those measurements are coupled along only two primary axes, and the MTS sensors are able to measure all four parameters with just two sensors rather than four. With this multi-position capability, magnetostrictive technology reduces the number of required sensors from four down to two without compromising performance, improving both precision and productivity.

The magnetostrictive sensor's multi-position capability allows for tool or cartridge positioning automation, significantly reducing changeover time and increasing machine productivity. In addition, use of smart programmable R-Series sensors with fieldbus technologies allows setups to be stored and recalled directly at the PLC / HMI for even faster setup times.

Just as there is a range of performance expectations and levels in plastics processing equipment, MTS Sensors offers a range of linear-position sensor options that fit the scope of each application. MTS provides high-quality, reliable, high-performance R-Series, G-Series, and E-Series linear-position Temoposonics sensors that meet the requirements of a variety of applications.

"MTS offers an economical E-Series sensor that provides the benefits of magnetostriction in a cost-effective package for cost-sensitive plastic equipment, as well as the R-Series, which has the high-end performance and speed for demanding applications," said Hankinson. "Typically, the high-end plastic injection molding machines have the fastest cycle times because they are able to reduce material consumption and improve productivity via high-speed, high-precision control. That's only achievable with our high-performance series such as R-Series with Ethercat or Synchronous Serial Interface (SSI)."

R-Series sensors are rugged, industrial sensors that provide absolute, linear position measurement and non-contact sensing technology with high-performance protocols including SSI, DeviceNet, Profibus DP, CANbus, and EtherCAT. With linearity down to +/- 20 microns or better, resolution of 1 micron, and repeatability within 0.001%, these sensors are ideal for applications that require accuracy, reliability, and consistency.

G-Series sensors are rugged, industrial sensors that provide highly accurate measurements in either analog or digital outputs, offer enhanced diagnostics and programming capabilities, and are designed for backwards compatibility with legacy Temposonics products.

For less demanding applications, MTS Sensors offers the E-Series sensor, an alternative to using a potentiometer, because it provides better performance without a large price premium. Use the E-Series for your customized solution for high-volume applications that provides position and velocity measurement.

For more information on Temposonics Sensors, please contact: MTS Systems Corp, Sensors Division, 3001 Sheldon Drive, Cary, NC 27513. Phone: (919) 677-0100. E-mail: info@mtssensors.com or visit their web site at www.mtssensors.com.

MTS Sensors, a division of MTS Systems Corp., is the global leader in the development and production of magnetostrictive linear-position and liquid-level sensors. Based on MTS' patented Temposonics® technology, the Sensors Division is continually developing new ways to apply magnetostrictive sensing technology to solve critical applications in a variety of markets worldwide. With facilities in the U.S., Germany and Japan, MTS Sensors Division is an ISO 9001 certified supplier committed to providing innovative sensing solutions that deliver customers with reliable, cost effective sensing devices.

More from Software