Linear Photodiode Array suits sensing applications.
Press Release Summary: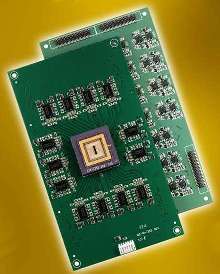 Hybridized with 1 Megohm gain transimpedance amplifiers, 100 element photodiode array utilizes opaque polymer coating process to create mask that blocks any light outside pixels. Mounted on 1 PCB, each detector element is connectorized to TIA using AC coupling scheme to automatically filter out signals due to DC ambient light levels. Nominal specifications include pixel size of 0.045 x 0.050 mm with 0.055 mm pitch. Operating spectral range is 350-1100 nm.
---
Original Press Release:

New Hybridized Detector Array Offers Greater Performance and Convenience


Advanced Photonix, Inc.® (Camarillo, CA) has introduced a novel, 100 element, hybridized, linear photodiode array that delivers improved spatial resolution compared to conventional products. With traditional array technology, incident light beyond the edge of the active pixel area can cause spurious signal noise. These new arrays utilize API's propriety opaque polymer coating process in order to create a mask which blocks any light outside the pixels, improving spatial fidelity and hence spatial resolution.

In order to simplify its implementation, maximize the signal to noise, and enhance final system performance, this array is directly hybridized with 1 Megohm gain transimpedance amplifiers (one per detector element) and mounted on a single printed circuit board. In the standard product line, each detector element is connectorized to its TIA using an AC coupling scheme to automatically filter out signals due to DC ambient light levels. (However, custom DC coupled versions are also available upon request). The hybrid circuit draws on API's extensive experience in detector system design to provide high stability and minimal noise, together with carefully managed oscillation and overshoot characteristics.

Nominal device specifications include a pixel size of 0.045 mm x 0.050 mm with a pitch of 0.055 mm; the entire printed circuit board measures 101 mm x 178 mm (4 x 7 inches). The operating spectral range is from 350 nm to 1100 nm. Amplifier characteristics and array configurations can be customized to meet the specific needs of OEMs.

Typical applications for this product include particle counters, medical instrumentation, and industrial sensing.

Advanced Photonix, Inc.® (ASE: API) is a leading supplier of innovative, silicon-based electro-optical products and design solutions to a global OEM customer base. Products include the patented Large Area Avalanche Photodiode (LAAPD) and Filtrode® detectors, as well as PIN photodiodes. More information on Advanced Photonix can be found at www.advancedphotonix.com.

For more information contact Sharon Loeffler, Advanced Photonix, 1240 Avenida Acaso, Camarillo, CA 93012 8727, 805 987-0146, FAX 805 484-9935, Email: sales@advancedphotonix.com, Internet Home Page: www.advancedphotonix.com

More from Machinery & Machining Tools