Linear Moving Magnet Actuators allow for precise positioning.
Press Release Summary: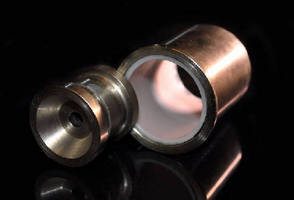 When combined with smart drive electronics, Moving Magnet Voice Coil Actuators can be controlled for speed and desired output force. By keeping magnet mass low, system inertia is well controlled, resulting in precise speed and position control. Moving magnet actuators lend themselves to applications that require moderate speed and gentle stop points, such as remotely controlled circuit breakers, medical hand tools, and other delicate instrumentation.
---
Original Press Release:

Linear Actuator With Moving Magnet Offers Precise Positioning



VISTA, Calif. − BEI Kimco Magnetics' new Moving Magnet Voice Coil Actuator Series allows for precise positioning to meet high accuracy requirements. When combined with smart drive electronics, this actuator can be controlled for speed and desired output force.  Kimco's expertise in design of magnetic field circuits has resulted in a high efficiency design which translates to high performance for precision applications.  By keeping the magnet mass low, the system inertia is well controlled resulting in more precise speed and position control.



Moving magnet actuators lend themselves to applications that require moderate speed and controllable, gentle stop points, functions not achievable with solenoids or standard voice coil actuators.  Typical applications include remotely controlled circuit breakers, medical hand tools and other delicate instrumentation.



Unlike standard voice coil actuators where the magnet assembly is intended to remain fixed while the coil assembly moves, BEI Kimco's Moving Magnet Voice Coil Actuators are designed to use a stationary coil. In addition, having a stationary coil allows for a simpler design of the electrical connections. 



"Not every application is about speed," explains Jim McNamara, BEI Kimco Senior Applications Engineer.  "And in those applications, the Moving Magnet Voice Coil Actuator really shines.  It can move at just the speed needed with a controllable, gentle stop."



Call our application engineers at (760) 597-7042 or (800) 572-7560 to discuss your specific positioning application needs.  Or email sales@beikimco.com. 



About BEI Kimco Magnetics:

BEI Kimco Magnetics is a brand of Custom Sensors & Technologies (CST). BEI Kimco Magnetics was founded in 1974 and specializes in rotary and linear motion control products.  The company's precision motion control products include high-speed performance Brushless DC motors, Cylindrical and Flat Voice Coil Actuators, and Linear Motors. These products are used across a wide range of applications including medical and scientific, factory and office automation, optics, semiconductor/electronics, military, aviation, space systems, and security. Kimco merges leading-edge capabilities and cost-effective manufacturing know-how with highly customized applications expertise.  www.beikimco.com  



BEI Kimco Magnetics

1499 Poinsettia Ave.

Suite 160

Vista, CA  92081, USA

Tel: (760) 597-7042

Toll-free: (800) 572-7560

Fax: (760) 597-6320

email: sales@beikimco.com  

www.beikimco.com.



About Custom Sensors & Technologies:

Custom Sensors & Technologies (CST) is a specialist in sensing, control and motion products. Through its brands, BEI Kimco, BEI Sensors, BEI PSSC, Crouzet, Crydom, Kavlico, Newall and Systron Donner Inertial, CST offers customizable, reliable and efficient components for mission-critical systems in Aerospace & Defense, Transportation, Energy & Infrastructures, Commercial & Industrial OEMs, Medical, Food and Beverage and Building Equipment markets.



Focused on premium value offers and committed to excellence, CST, with 4,700 employees worldwide and sales of $660M US in 2011, is the dependable and adaptable partner for the most demanding customers. www.cstsensors.com





Client Contacts:

BEI Kimco Magnetics



Jerry Brierton 

Tel: 214-675-5433

Email: jerry.brierton@beikimco.com

More from Thermal & Heating Equipment