Linear Motors feature modulated gas control.
Press Release Summary: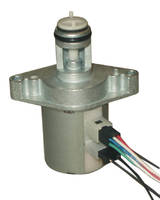 Integrating motor and valve, Linear Motor Series provides proportional control of gas flow for energy-efficient gas heating. Synchronous model provides 10 mm displacement at 115 V, linear step speed of 0.833 or 1.67 mm/sec, and output force of 27-45 N. Featuring dual safety system, 2 stepper-based models incorporate -7.5° and -15° step angle, linear step displacement of 0.0167 and 0.033 mm/step, and output force of 38 or 58 N and 38 or 43 N, respectively. All provide linear travel of 10 mm.
---
Original Press Release:

New Crouzet Linear Motor Series



Features Modulated Gas Control for Greener, Gas Heating Efficiency

VISTA, Calif., - March 10, 2009 - With heating and domestic hot water representing 85% of a family household energy expenses, energy saving solutions are increasingly in demand. In response, Crouzet North America, a company of Custom Sensors & Technologies, has introduced the Linear Motor Series to the North American market. Designed to provide a greener, more energy-efficient means of gas heating control, the new motor series features proportional control of gas flow rather than straight on/off control. With extremely accurate modulation of the gas being dispensed, fuel can be burned at a slow or fast rate as needed, resulting in improved burning efficiency, energy saving economies, and reduced pollution. Typical applications include gas heaters, gas fireplaces, and other equipment that uses gas valve control.

The new device is packaged as an integrated assembly complete with motor, valve, and safety function (stepper models), simplifying system design for OEMs and reducing component inventory. For further system simplification, the highly accurate regulation of the linear stepper motor allows replacement of two electromagnets per channel, and only requires one channel to control the global range of flow (0.6m3/h to 6 m3/h). The stepper motor configuration also features a rapid response, dual safety system that combines the regulation and fail safe function into one. This allows the motor to switch off the valve and stop the gas flow in less than 10 ms. The safety function also allows the valve to spring back to close if power is lost. Other outstanding characteristics of the new series include low noise, customization to specific application requirements, and certification to EN161 safety standards.

Included in the new series are three digital linear models with various speeds, step angles, and output forces. All three models provide a linear travel of 10 mm as standard and up to 35 mm upon request for versions with an anti-rotation device built-in. The first in the series incorporates synchronous motor technology. Offering low and high speed connections, it provides 10 mm displacement at 115 Volts, a linear step speed of 0.833 or 1.67 mm per second, and an output force between 27 and 45 N. The other two models in the series are based on stepper motor technology and provide 10 mm displacement with 2 or 4 phase configurations. The first stepper-based motor incorporates a -7.5º step angle, a linear step displacement of 0.0167 mm per step, and an output force of 38 or 58 N. The second stepper-based model in the series features a -15º step angle, a linear step displacement of 0.033 mm per step, and an output force of 38 or 43 N.

"Crouzet's Linear Motor Series has proved extremely successful in the European market where conservation has been a priority," says Todd Ervin, Crouzet Regional Sales Manager. "With the North American market's growing commitment to a greener earth, we believe this product will be an excellent solution for OEMs and manufacturers seeking better solutions for gas heating."

The Crouzet Linear Motor Series is priced competitively in production quantities and is available now with standard delivery of 8 to 10 weeks. For more information, contact Crouzet North America, 2470 Coral Street, Bldg. D, Vista, Calif., 92081-8430; Tel: (760) 597-6322; Fax (760) 597-6320; E-mail: mcnamaj@us.crouzet.com, or visit www.crouzet-usa.com

About Crouzet North America

Crouzet North America is a company of Custom Sensors & Technologies (CST). Crouzet (pronounced cruise-A) started operations in the US in 1978. A global company of about $180 M, Crouzet, headquarted in France, counts now about 2000 workers in more than 14 countries. Once composed of sub-fractional HP motors, switches (miniature snap-action, digital, and limit), timers and pneumatic control components the product offering was enlarged thanks to two major acquisitions that helped Crouzet to become a major player in the US market for automation and industrial controls. www.crouzet-usa.com

About Custom Sensors & Technologies

Headquartered in Moorpark, CA - Custom Sensors & Technologies (CST) is comprised of industry-leading brands including Crouzet, Kavlico, Crydom, and former divisions of BEI Technologies - Newall and Systron Donner. CST provides sensors, controls, and actuation products for the Transportation, Industrial and Aerospace & Defense markets. www.cstsensors.com

More from Electrical Equipment & Systems