Linear Motors are UL recognized.
Press Release Summary: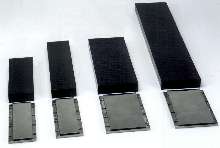 Series LC steel core, brushless linear motors feature insulation system and motor coil design, which achieves Class H 180°C protection and 650 Vdc bus voltage rating. Model LC-80-240 is 80 x 240 mm and rated at 62 lbf continuous, and Model LC-80-340 is 80 x 340 mm and rated at 94 lbf continuous. Molding completely encapsulates face of motor, sealing laminations and eliminating moisture migration path. Stainless steel shroud covers magnets providing additional protection.
---
Original Press Release:

Anorad Announces First UL Recognized Linear Motors


Shirley, New York (February 2003) - Anorad Corporation, a Rockwell Automation business, announced today yet another first in linear motors - its new LC family of steel core brushless linear motors has received Underwriters Laboratories (UL) recognition. Carrying the UL mark means that Anorad's high performance linear motors meet UL's strict standards for insulation system integrity and product safety.

While common with rotary motors, UL recognition has long eluded linear servo motor manufacturers - until now. As a two-piece frameless component set, linear motors offer different challenges than their rotary motor assembly counterparts. Moreover, the additional insulation requirements of UL can be cause for performance and packaging trade-offs in linear motors, which are typically employed in very high performance and compact
positioning applications. However, Anorad has employed a new insulation system and motor coil design which achieves both Class H 180°C protection and a 650 VDC bus voltage rating while actually increasing force density over previous models. The result is an extremely robust product with extraordinarily high performance metrics. The motors have been recognized to both the 1004 Standard for Electric Motors and the 1446 Standard for Systems of Insulating Materials.

The LC linear motor utilizes a unique patent pending laminated steel core design which has been optimized by Finite Element Analysis (FEA). This allows the coil assembly to have a high copper fill with improved thermal efficiency. Coupled with the latest generation of magnetic materials, an extremely high force density is achieved. The LC is initially available in two coil sizes. Model LC-80-240 is 80mm wide by 240mm long and rated at 62 lbf continuous, and model LC-80-340 is 80mm wide by 340mm long and rated at 94 lbf continuous. Other sizes are currently in development, and custom configurations are easily accommodated.

A special feature of the LC linear motor coil is its unique encapsulation method. Unlike other linear motors that have the coil laminations exposed in the air gap, the LC motor uses a novel molding method that completely encapsulates the face of the motor, thus effectively sealing the laminations. This does away with the exposed interface between steel and epoxy eliminating a moisture migration path that could lead to motor failure in wet environments.

Adding to the motor's robust design is a heavy duty magnet track. A stainless steel shroud covers the magnets providing additional protection as well as an aesthetically pleasing look. Magnet track sections are easily butted together to achieve any required travel.

The LC motor is compatible with industry standard 3-phase brushless servo drives. For servo drives that require commutation feedback, an available Hall effect feedback module can be attached to the front of the motor coil. The motor may also be commutated by software with those controls that offer this feature. Anorad offers a full line of compatible servo controls, drives, cables and feedback.

The LC linear motor is ideal for high throughput applications where high force density and robust design is required, such as wafer dicing, electronics assembly, machine tools, material handling, and water jet cutting.

Anorad has a rich history in linear motor development and manufacturing. The company pioneered the use of linear motors in production positioning equipment for industry. It was the first to bring to market such novel inventions as the PM brushless linear motor, the cableless moving magnet linear motor with integrated feedback, the 2D brushless planar servo motor, and oil/water cooled machine tool linear motors. Drawing on 20 years of linear motor leadership, Anorad has once again reset the performance bar with the LC linear motor line.

Anorad Corporation, a Rockwell Automation business, produces ultra-high precision positioning stages, motion systems, linear motors and servo controls for demanding original equipment manufacturers in the semiconductor, electronics, flat panel, photonics, and general automation markets. The company is headquartered in Shirley, New York and has additional operations in Israel and the Netherlands. For more information on Anorad's
products and services, visit www.anorad.com.

Rockwell Automation (NYSE:ROK) is a world leading provider of industrial automation, power, control and information solutions that help customers meet their manufacturing productivity objectives. The company brings together leading brands in industrial automation for Complete Automation(TM) solutions, including Allen-Bradley® controls and engineered services, Rockwell Software® factory management software, Dodge® mechanical power transmission products, and Reliance Electric(TM) motors and drives. The company is also a leading provider of contact management technologies and applications that help companies more efficiently manage interaction with their own customers. Headquartered in Milwaukee, WI, USA, the company employs approximately 23,000 people at more than 450 locations serving customers in more than 80 countries.

More from Explosives, Armaments, and Weaponry