Linear Motor Positioning Stage features 12 in. stroke.
Press Release Summary: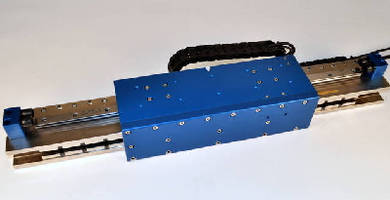 Driven by 3-phase brushless linear motor and guided by pair of precision recirculating linear ball bearings, SR series generates 100 lb of continuous force and 300 lb of peak force. Open type positioning stage includes 1 micron resolution linear encoder and ironless core coil assembly that has no magnetic attractive force to stationary magnet assembly, maximizing life of bearing system. Low overall weight of stage makes it suitable as Y axis in multi-axis system.
---
Original Press Release:

High Force Brushless Linear Motor Positioning Stage



H2W introduces a new high force SR series positioning stage.  The brushless linear motor positioning stage (P/N SRS-012-07-100-01) is a closed loop system that can be used for high force positioning applications.  The SR series stage is a compact, small footprint, open type positioning stage.  The ironless core coil assembly has no magnetic attractive force to the stationary magnet assembly which increases life of the bearing system.  The low overall weight of the stage makes it ideal as a Y axis (top axis) in a multi-axis system.  The lower moving mass of the stage allows for much higher accelerations of light payloads.



The stage is driven by a 3 phase brushless linear motor and is guided by a pair of precision recirculating linear ball bearing.  The stage has a 12" [300 mm] stroke, generates 100 lbs [444 N] of continuous force and 300 lbs [1332 N] of peak force.  It includes a 1 micron resolution linear encoder.  SR series positioning stages are ideal for long stroke applications that require high speed, high acceleration moves with fast settling times.



Features:

- Long ravels

- High force and acceleration

- Small Cross section

- Custom strokes and force configurations available



H2W Technologies is dedicated to the design and manufacture of linear and rotary motion products that are used in the motion control industry.  The complete line of linear electric motors includes: single and dual axis linear steppers, DC brush and brushless linear motors, voice coil actuators, and AC induction motors.  Also offered is a complete line of ball screw, lead screw and belt driven positioning stages.



Other motion control products include: limited angle torque motors for compact, limited angular excursion rotary servo applications, 3 phase brushless rotary servo motors with matching digital servo amplifiers and permanent magnet linear brakes for fail-safe, zero power braking for baggage handling and people moving applications as well as amusement park rides.



With over 75 years combined experience in the linear and rotary motion field, the H2W Technologies team of engineers offers the optimal solution to the most demanding motion control requirements.



For additional information please contact Mark Wilson at H2W Technologies, 26470 Ruether Avenue #102, Santa Clarita, CA 91350; Tel: 888-702-0540, Fax: 661-251-2067, E-Mail: info@h2wtech.com or visit the website at www.h2wtech.com .

More from Communication Systems & Equipment