Linear Motion System offers acceleration speeds to 50 m/s².
Press Release Summary: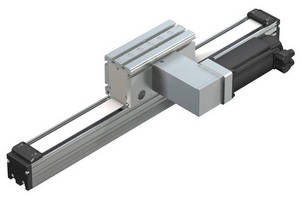 Omega Module has belt drive fixed to both ends of main body and looped around drive shaft of table part, reducing module mass while promoting dynamics and top speed (5 m/s). Guidance of module's table part over ball rail systems achieves rigidity for precise movements. Stationary drive enables system to be set up in any position in addition to being used as vertical axis. With stationary main body, custom lengths up to 5,500 mm can be specified; widths of 55, 85, and 120 mm are available.
---
Original Press Release:

Fast and Light for Long Movements



Rexroth's Omega Module linear motion system adds even more capability to the EasyHandling modular system

Feed units in machine tools, assembly lines and handling applications often require fast deep plunges into large workspaces. Combined with the increasingly fast cycle times of production machines, this places especially high demands on the axis mechanics in automated processes. Rexroth's new linear motion system, the "Omega Module", addresses this need by featuring a very low traveling mass so that top speeds can be reached. The belt drive is fixed to both ends of the main body and is looped around the drive shaft of the table part in the shape of the Greek letter "W", reducing the module's mass considerably compared to ball screw assemblies, thereby making it highly dynamic. By guiding the module's table part over ball rail systems, the module achieves a high degree of rigidity for precise movements.

The Omega Module linear motion system allows for higher dynamics over longer distances in feed units, thanks to the combination of its low traveling mass and fast belt drive. Because the drive is stationary, the linear system can be set up in any position in addition to being used as a vertical axis. A pneumatic clamping element maintains the position at standstill and also clamps hanging loads.

As a single axis system, the Omega Module comes with the necessary mechanical and electrical interfaces to fit with the modular Rexroth EasyHandling system. The system's standard Easy-2-Combine form-fit connection method can speed assembly and reduce up-front engineering time, even in multi-axis systems. In addition, it simplifies the direct attachment of pneumatic grippers and rotary modules, or other end-of-arm tooling.

One of the special features of EasyHandling is that it allows for fast start-up. With the EasyWizard commissioning tool, only a handful of axis-specific data needs to be entered, which helps to reduce start-up time to just a few minutes. As a single-axis system, the Omega Module is ideal for assembly and handling applications or in other automation tasks.

The Omega Module comes in three sizes to handle a variety of performance requirements. With a stationary main body, users can specify custom lengths up to 5,500 mm and choose from main bodies (frames) with widths of 55, 85 or 120 mm. This set-up allows for several carriages with their own drive to be operated independently from each other. Rexroth offers the linear motion system with matching drives, motors and controllers. In the largest size, the mechanics are designed for input torques up to 154Nm. With high acceleration speeds of up to 50m/s² and speeds of up to 5m/s, it opens up the door for reduced cycle times even for longer movements.

Bosch Rexroth AG is one of the world's leading specialists in the field of drive and control technologies. Under the Rexroth brand name, the company supplies more than 500,000 customers with tailored solutions for driving, controlling and moving. Bosch Rexroth is a partner for Mobile Applications, Machinery Applications and Engineering, Factory Automation and Renewable Energies. The company provides customized solutions tailored to the needs and specifications of each individual market. As The Drive & Control Company, Bosch Rexroth develops, produces and sells components and systems in more than 80 countries. As part of the Bosch Group, Bosch Rexroth and its 38,400 associates generated approximately 6.4 billion euros in revenue in 2011.

To learn more, please visit www.boschrexroth-us.com.

In the U.S., Canada and Mexico, the Bosch Group manufactures and markets automotive original equipment and aftermarket products, industrial drives and control technology, power tools, security and communication systems, packaging technology, thermotechnology, household appliances, solar energy, healthcare telemedicine and software innnovations. Having established a regional presence in 1906, Bosch employs more than 22,500 associates in more than 100 locations, with sales of $9.8 billion in fiscal year 2011, per preliminary figures. For more information, visit www.boschusa.com.

The Bosch Group is a leading global supplier of technology and services. According to preliminary figures, more than 300,000 associates generated sales of 51.4 billion euros ($71.5 billion) in the areas of automotive and industrial technology, consumer goods, and building technology in fiscal year 2011. The Bosch Group comprises Robert Bosch GmbH and its more than 350 subsidiaries and regional companies in some 60 countries. If its sales and service partners are included, then Bosch is represented in roughly 150 countries. This worldwide development, manufacturing and sales network is the foundation for further growth. Bosch spent more than 4 billion euros ($5.5 billion) for research and development in 2011, and applied for more than 4,100 patents worldwide. With all its products and services, Bosch enhances the quality of life by providing solutions that are both innovative and beneficial. Further information is available online at www.bosch.com and www.bosch-press.com.

Please Send Any Reader Inquiries To:
info@boschrexroth-us.com

Contact for Journalists:
Bosch Rexroth Corporation
Susan Strauss
2315 City Line Road
Bethlehem, PA 18017
Telephone (610) 694-8352
Fax (610) 694-8266
susan.strauss@boschrexroth-us.com

Godfrey Public Relations
Todd Scott
40 North Christian Street
Lancaster, PA 17602
Telephone (717) 393-3831
Fax (717) 393-1403
tscott@godfrey.com

More from Electronic Components & Devices